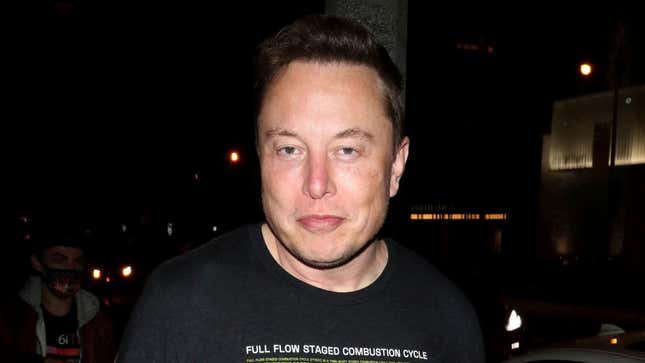 Twitter is dying, and billionaire site owner Elon Musk knows precisely where to point the finger—not at the mirror, of course, but at the Anti-Defamation League. The Jewish civil rights organization is just one of several watchdog groups that have accused Twitter of platforming anti-Semitism.
Mr. Tweet Fumbles Super Bowl Tweet
On Sunday evening, Musk posted to Twitter that "To clear our platform's name on the matter of anti-Semitism, it looks like we have no choice but to file a defamation lawsuit against the Anti-Defamation League… oh the irony!"
The Anti-Defamation League, which routinely points out racism and Anti-Semitism on online platforms, has previously been the subject of Musk's ire for calling out his app's big racism problem. Musk, for his part, further claimed that the microblogging site's U.S. advertising is down 60%. He alleged the ADL was pressuring advertisers, saying "that's what advertisers tell us."
In his Twitter tirade, Musk said he's "pro-free speech, but against anti-Semitism of any kind." Musk has been known to shoot from the hip on multiple occasions before inevitably backing down from a real fight. He has used the threat of lawsuits as a way to clamp down on free speech. He's previously threatened to sue the owner of the @ElonJet account that tracked his private jet using publicly available information.
But the Twitter owner has been gunning for the League in recent days. #BanTheADL has trended on Twitter mere days after the site's own CEO Linda Yaccarino met with ADL CEO Jonathan Greenblatt where they discussed addressing "hate effectively on the platform," according to tweets from both executives. Musk fueled the campaign by liking posts by people with known connections to far-right groups, then tweeting "ADL has tried very hard to strangle X/Twitter."
Greenblatt had previously been caught in his own controversy after he favorably compared Elon Musk to the notorious anti-Semite Henry Ford, saying the SpaceX founder is "the Henry Ford of our time."
An ADL spokesperson declined to comment on the threat of a lawsuit, saying the organization doesn't comment on legal threats. However, in an email statement, the spokesperson said that Musk has "lifted" a campaign to ban the ADL on his platform. The spokesperson wrote:
ADL is unsurprised yet undeterred that antisemites, white supremacists, conspiracy theorists and other trolls have launched a coordinated attack on our organization. This type of thing is nothing new.

This onslaught comes following our participation in the 60th Anniversary of the March on Washington, where ADL proudly marched shoulder-to-shoulder with African-American leaders and those from other minority communities. It also follows a meeting with the leadership of X, formerly known as Twitter, that clearly upset these hateful groups.
Despite Musk's claims to the contrary, Twitter has been a haven for far-right groups under Musk's tenure. A previous Gizmodo investigation showed that Twitter was running ads for major brands like Disney and Microsoft alongside posts advertising a neo-Nazi film. Back in October, Musk granted his "friend" and known anti-Semite Ye—formerly Kanye West—his account back before re-banning him once more after he made more anti-Semetic comments. Last month, Twitter unbanned Ye and subsequently sued the Center for Countering Digital Hate for its "scare campaign" to drive advertisers away from Twitter.
Then there are all the accounts that Musk has allowed back onto Twitter despite their past racism and links to the far right such as white supremacist Richard Spencer. The site owner also unbanned infamous Holocaust denier Nick Fuentes before suppressing his account once more after the hatemonger praised Hitler in a Twitter Space.
And that's just the anti-Semitism. Twitter has appeased transphobes by removing language from its Hateful Conduct policy that banned deadnaming and misgendering. Musk has even talked about ending users' ability to block other accounts, meaning it would be that much harder for users to police their own feeds to root out extremist and hurtful content.