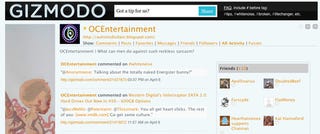 This week's random Gizmodo starred commenter/My Fusion Site enthusiast is the one and only OCEnterainment, who has made made some excellent choices. Check them out below, then create your own Gawkmodo or Jalopspin or Kotako9!
With My Fusion Site, you can elect to read your favorite content from any combination of Gawker Media titles, all on one page. Click here to get started.
OCEntertainment's My Fusion Site gives him every single story on Gizmodo and Lifehacker (no surprise there), Io9 top stories and Gawker top stories. Obviously he is a man of discerning taste with a passing interest in the Vanilla Gorilla story. Totally understandable.