MyVibe is probably the first x-rated app approved by Apple—following the introduction of content ratings—and the first vibrator. Sexual health expert Dr. Debby Herbenick has tried it. Here are her thoughts on it (NSFW):
If you haven't already checked out MyPleasure.com's MyVibe app in the iPhone's app store, you might want to. Unlike many saucy apps out there, MyVibe is free—and fun.
Here's how it works: There's an on/off button that looks like many computer on/offs so it's easily recognizable. On the right there are up and down arrows to control your vibration - short, quick pulses (smaller #s) or longer slower ones (higher #s, up to 100).
The intensity of the vibration MyPleasure could use for this app is obviously limited by the amount of vibration that the iPhone offers, so the orgasmic potential of the MyVibe app is similarly limited. However, orgasms—while fun—aren't everything.
Anticipation, teasing and seduction play a major role in many people's sex lives. Why not turn on the app, hold the iPhone discreetly against your body while on the metro, in a cab or at work as you exchange sultry IMs or Twitter DMs with your real life partner or dream partner? Having a little vibration can add excitement and tingles to your day (and your genitals). [MyVibe via My Sex Professor]
G/O Media may get a commission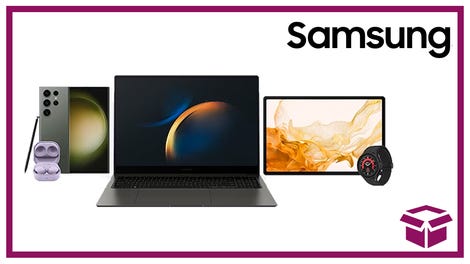 24 hour deals
Discover Samsung - Daily Deal
First vibrator app, works for teasing and seduction.


It's free.


iPhone doesn't have enough vibe power to cause an orgasm.

Dr. Debby Herbenick, author of Because It Feels Good: A Woman's Guide to Sexual Pleasure and Satisfaction, is the Associate Director of the Center for Sexual Health Promotion in the School of Health, Physical Education and Recreation at Indiana University (IU) where she is a Research Scientist. She is also a sexual health educator at The Kinsey Institute for Research in Sex, Gender and Reproduction where she writes (and hosts audio podcasts of) the Kinsey Confidential column and coordinates educational programming. She has a PhD in Health Behavior from IU, a Master's degree in Public Health Education (also from IU) and a bachelor's degree in psychology from the University of Maryland, College Park. In addition, she is certified as a Sexuality Educator from the American Association of Sex Educators, Counselors and Therapists.

Debby writes regular sex columns for Men's Health magazine, Time Out Chicago magazine, Velocity, Cheeky Chicago, Psychology Today and she has also written for Glamour magazine.