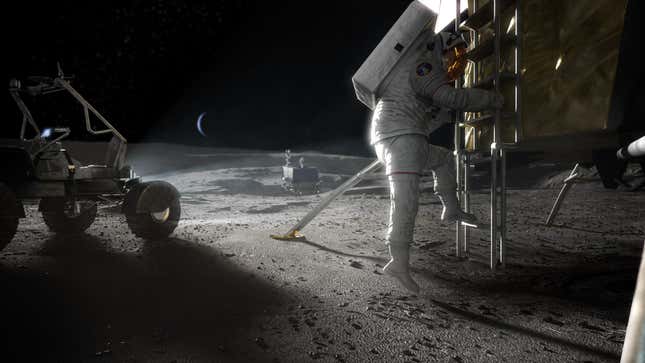 It's been over 50 years since the final Apollo mission, but NASA's ambitious Artemis program seeks to return humans to the lunar surface after that long absence. For that to happen, however, the space agency needs an updated Moon suit, the prototype of which will be revealed today.

The event starts at 10:30 a.m. ET, and it's being hosted by Axiom Space—the third party vendor chosen by NASA to build the Moon suits. Axiom signed a $228.5 million contract with NASA in September of last year, in which the Houston-based company must design, build, and test the spacesuits in preparation for NASA's Artemis 3 mission, currently scheduled for late 2025.
The Moon suit reveal will take place at Space Center Houston in Texas and feature several officials from NASA and Axiom, including NASA astronaut Kate Rubins, Axiom Space CEO Michael Suffredini, and Axiom astronauts Peggy Whitson and John Shoffner. The event, in addition to the suit reveal, will include a demonstration of the prototype, followed by a question-and-answer session for the media and students. You can watch the event live at NASA TV, YouTube, or at the livestream provided above.
The Moon suit is one of several key technologies required to make Artemis 3 possible, a notable one being SpaceX's Starship rocket, which will both launch and serve as the lunar lander. That the Moon suit will be ready in time for Artemis 3 is no guarantee; NASA's Office of Inspector General has already warned of potential delays with the suit, known as the Exploration Extravehicular Mobility Units (xEMU).
NASA and Axiom officials will likely be pressed on this matter, so we'll be watching for that. In addition, we'll be looking to see how true Axiom's suit will be to the designs previously sketched out by NASA, as the next generation suit promises to be safe, flexible, comfortable, and capable of withstanding the extreme temperature variations expected at the lunar south pole.
For more spaceflight in your life, follow us on Twitter and bookmark Gizmodo's dedicated Spaceflight page.