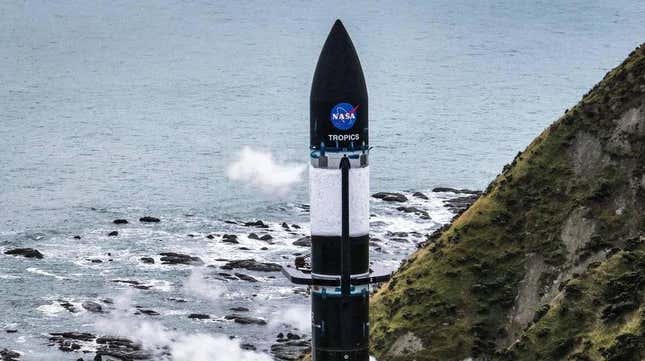 NASA is finally, once again, scheduled to get its constellation of small, storm-monitoring satellites into space after a 2022 launch failure tanked two of the six planned cubesats. Launch of the TROPICS mission is set for May 7, at 9:00 p.m. ET from Rocket Lab's Launch Complex 1 on New Zealand's North Island.

Astronomers Could Soon Get Warnings When SpaceX Satellites Threaten Their View
Previously, NASA had been working with private partner Astra to get its weather-watching cubesats aloft. However, during the first launch in June of last year, an Astra rocket failed after launching from Cape Canaveral, resulting in the loss of two of the bread-loaf sized satellites. Hence, the pivot to Rocket Lab and New Zealand.
After days of weather delays, the remaining two launches are now set for this coming week and the following. The first, named "Rocket Like a Hurricane," is scheduled for Sunday night (Monday afternoon NZT), the second, named "Coming to a Storm Near You," is set for May 16, according to Next Spaceflight.
TROPICS is an acronym for "Time-Resolved Observations of Precipitation structure and storm Intensity with a Constellation of Smallsats." The NASA mission aims to place paired CubeSats at different orbital planes in order to boost our understanding and ability to monitor Earth's tropical storms. Initially, there were meant to be six total CubeSats. Obviously now, post failure, there are only four.
But still, NASA scientists are hopeful the four remaining, small-scale satellites will make it into orbit and offer more information on hurricanes and other dangerous weather systems than we've ever had available before. The humidity, wind, and temperature readings offered by TROPICS are expected to "fill in the data voids" that currently exist in forecasting and storm monitoring, said Will McCarthy, a NASA program scientist, during an April 28 press briefing.
If both launches go well and all four CubeSats make it to space, the constellation of 10-pound satellites will offer hourly readings on storm systems and help to improve forecasting as well as storm modeling, McCarthy added. Better forecasting, and more frequent data on active storms could ultimately "save human life" by increasing the amount of advance notice people have in the lead up to catastrophe as well as the accuracy of weather warnings.
Mission delays aside, TROPICS comes at a good time. Research suggests that climate change is contributing to intensifying tropical storm systems. If storms are getting worse, then our forecasting needs to get better because, counter to some presidential conspiracy theories, humanity hasn't yet developed the technology to control hurricanes.
In lieu of a means to change a storms' course, people can at least figure out how to get out of the way. "If you can't redirect [a storm], what you can do is your absolute best to improve your forecasting of it," said McCarthy—which then trickles down to emergency managers and local governments. It's translating "science to action," he said.
For more spaceflight in your life, follow us on Twitter and bookmark Gizmodo's dedicated Spaceflight page.