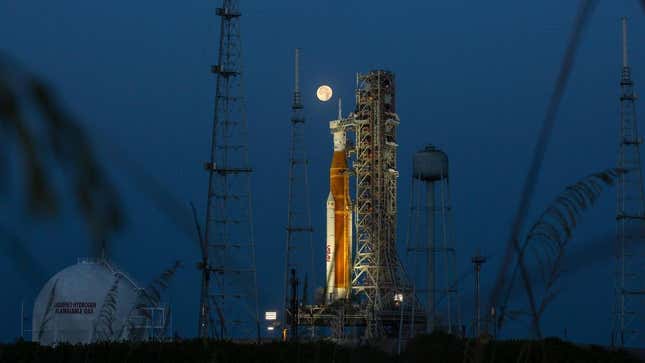 NASA has come under heat for the increasing cost of its Space Launch System (SLS) rocket, which space agency officials have finally admitted to being unsustainable and unaffordable, a new report revealed.
China's Plan to Land Astronauts on the Moon
The Government Accountability Office (GAO) released a report on Thursday that heavily criticized NASA for its lack of transparency regarding the true cost of the SLS program, which has already gone $6 billion over budget.
The SLS rocket launched on November 16, 2022 for the Artemis 1 mission, sending an uncrewed Orion spacecraft around the Moon and back. The 5.75-million-pound rocket is essential to NASA's Moon program, with plans to launch Artemis 2 in late 2024 followed by the first crewed landing on the lunar surface as early as 2025 and another one tentatively set for 2028.
"NASA does not plan to measure production costs to monitor the affordability of its most powerful rocket, SLS," GAO's report read. "After SLS' first launch...NASA plans to spend billions of dollars to continue producing multiple SLS components." Those components include core stages and RS-25 engines currently being built by Aerojet Rocketdyne. Each rocket launch requires four engines and two boosters; one RS-25 engine currently costs around $100 million to manufacture.
In 2014, GAO had recommended that NASA establish cost and schedule baselines for the Artemis program. Instead, the space agency "created a rolling 5-year estimate of production and operations costs to ensure that the costs fit within NASA's overall budget," GAO wrote in its report. That initial estimate, however, does not reflect the cost of the SLS program over time. As a result, ongoing production and other costs that followed the launch of Artemis 1 are not monitored.
NASA's massive Moon rocket has been a budgeting nightmare. The projected cost of each SLS rocket has gone over budget by $144 million through Artemis 4, increasing the overall cost of a single Artemis launch to at least $4.2 billion, according to a report released in May by the office of NASA's inspector general.
NASA officials that spoke to GAO acknowledged that at current cost levels, the SLS program is "unaffordable," and "unsustainable and exceeds what NASA officials believe will be available for its Artemis missions."
In an effort to decrease the cost of the SLS program over time, the space agency is working to implement these strategies: stabilizing the flight schedule, achieving learning curve efficiencies, encouraging innovation, and adjusting acquisition strategies to reduce cost risk.
The report shows skepticism over NASA's game plan moving forward. "NASA, however, has not yet identified specific program-level cost saving goals which it hopes to achieve," GAO wrote in its report. "NASA has made some progress toward implementing these strategies, but it is too early to fully evaluate their effect on cost."
NASA is also considering other options, like operating SLS under a launch service model whereby the space agency would purchase future launches and payload capabilities from a contractor who would own, operate, and integrate the rocket, according to the report.
There is a lot riding on the SLS rocket and NASA's planned return to the Moon, therefore the space agency is highly motivated to make it work. The future of its launch vehicle, however, might need to take a different trajectory in order to still be able to deliver the Orion capsule on its way to the Moon.
Want to know more about humanity's next giant leap in space? Check out our full coverage of NASA's Artemis Moon program, the new Space Launch System (SLS) rocket and Orion spacecraft, the recently concluded Artemis 1 mission around the Moon, the four-person Artemis 2 crew, NASA and Axiom's Artemis Moon suit, and the upcoming lunar Gateway space station. And for more spaceflight in your life, follow us on X (formerly Twitter) and bookmark Gizmodo's dedicated Spaceflight page.