What does an underwater laboratory have to do with NASA? Quite a lot, actually, especially if you're an astronaut training for a trip to deep space.
Since 2001, NASA has been plunging astronauts 19 meters below the ocean's surface for extended space training missions in Aquarius, an underwater ocean lab situated three miles off the coast of Key Largo, FL.
The trips are part of Nasa's Extreme Environment Mission Operations (or "NEEMO" for short), and will play an important role in preparing astronauts and other experts on planetary exploration for future missions to deep space, including manned trips to an asteroid that President Obama is pushing to see happen by 2025.
G/O Media may get a commission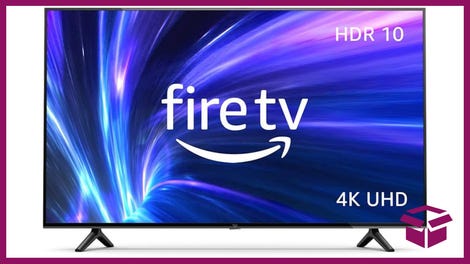 42% Off
Amazon Fire TV 50" 4K Smart TV
Unfortunately, the fifteenth NEEMO dive—which began on the 17th of this month—had to be cut a few days short yesterday on account of Hurricane Rina, whose projected path NASA says posed a risk to the safety of the agency's six-member underwater crew. According to a press release issued by NASA:
The NEEMO crew conducted six underwater spacewalks and one day of scientific research inside the Aquarius habitat. They also completed four days of scientific asteroid exploration analog operations using the deep worker submersibles that stood in for the Space Exploration Vehicle. This year's mission was the first NEEMO to focus on operational concepts that would be used in human exploration of an asteroid.
The NEEMO 16 mission has been penciled in for the summer of 2012.
Via NASA