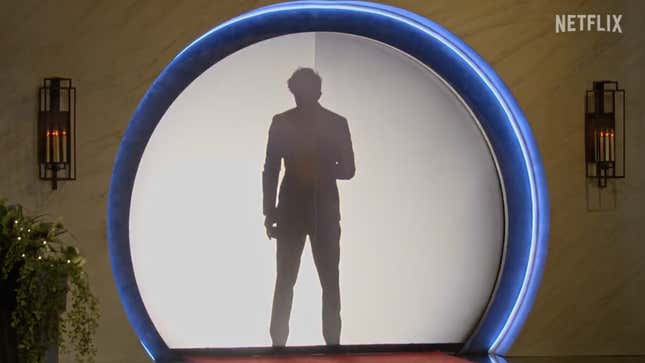 Netflix's competitors—Bravo, Hulu, and more—giddily made fun of the streaming service's livestream woes on Sunday as it struggled to air its much-hyped Love Is Blind season four reunion. Netflix ended up canceling the livestream, its second-ever live event, and told fans they would be able to stream it on Monday.
Netflix Passwords, ChatGPT Can't Detect AI, and No More CoTweets | Editor Picks
At first, Netflix appeared to simply be running late. In a now-deleted tweet, it informed fans that the livestream, which was scheduled to start at 8 p.m. ET on Sunday, would begin 15 minutes after the scheduled start time. However, many fans were unable to watch the reunion even at the new time. TechCrunch reported that Netflix displayed an error message when users tried access the livestream, which read: "There's an issue with the livestream. Hang tight! We're trying to fix it as soon as possible."
In addition, Downdetector, an outage tracking service, reported a huge spike in users reporting problems with Netflix around the scheduled time of the premiere. Although some users were apparently able to watch the reunion on Netflix, more than 9,200 users self-reported that they were experiencing problems with the platform.
The dinosaur Blockbuster, which only has one remaining store in the U.S., was the first one to throw salt on the wound.
"Remember renting vhs' from us. You could start it on time no problem… This is what we get," Blockbuster tweeted in response to Netflix's now-deleted tweet announcing the 15-minute delay.
Redbox joined in shortly afterwards. Redbox told Blockbuster in response, "solidarity, bro." The company's Twitter bio reads: "we still exist. thanks for asking."
Then came the king of reality TV and reunions: Bravo. "We would never keep you waiting for a Reunion 😉" the network tweeted.
Hulu, meanwhile, simply tweeted a photo of Kerry Washington with a delivering a judgmental "Hmm."
Netflix finally pulled the plug on the livestream an hour and 15 minutes after its scheduled premiere, telling viewers the reunion would be available to stream globally on Monday at 9 a.m. ET.

"To everyone who stayed up late, woke up early, gave up their Sunday afternoon… we are incredibly sorry that the Love is Blind Live Reunion did not turn out as we had planned," the streamer said on Twitter. "We're filming it now and we'll have it on Netflix as soon as humanly possible. Again, thank you and sorry."
Gizmodo reached out to Netflix for comment on Monday morning but did not immediately receive a response.
Netflix's Love Is Blind reunion was supposed to be another step forward in the platform's experimentation with livestreaming, an idea it announced last year in response to declining subscriber numbers. The platform successfully debuted its first live event, Chris Rock's Selective Outrage comedy special, in March and saw it reach its global top 10 chart.
Although Netflix's fortunes appear to be improving as of late, this hiccup with Love Is Blind likely won't earn it any goodwill. Luckily, millions seem to be hooked on the show—30 million households watched its first season—so I bet they'll bite their tongue and forgive Netflix, for now.