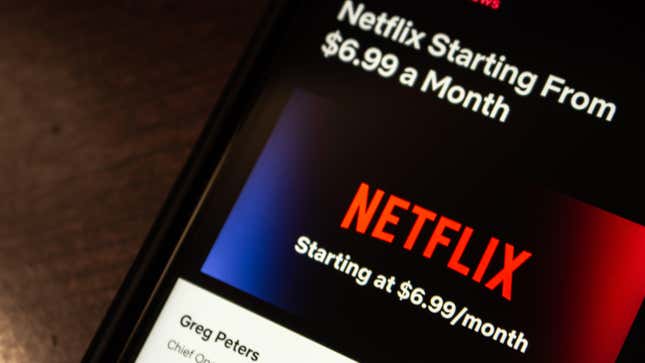 If Netflix's subscription tiers were all branches on a tree, then the newly-budded ad-based subscription tier started its life last year as the thinnest and weakest of the tree's many limbs. However, new data reportedly shows that Netflix's Basic With Ads tier is coming into its own, growing to be a branch that can finally support its own weight.
Netflix Passwords, ChatGPT Can't Detect AI, and No More CoTweets | Editor Picks
According to Bloomberg based on internal data, the ad tier had around 1 million monthly active users in the U.S. after its second month. The service came alive in November last year, and was at the time the least subscribed-to option among Netflix sign ups, according to analytics firm Antenna. New Antenna data shows that in January, the numbers of new ad-tier signups increased from 9% to 19%, finally gaining more subscribers than the Basic tier but still much less than Standard or Premium subscribers.
However, it's still a slower growth than other platforms like HBO Max and Disney+ had in their first few months when they introduced ad-based subscriptions. With their head start, other platforms with ads also have a far higher number of ad tier subscribers. Antenna did note however that of all the Netflix Basic signups, 54% opted for the cheaper ad-based version. It's also still just a drop in the bucket for the streaming service's 74 million subscriber base.
Bloomberg also added the caveat that while the 1 million MAU data is significant, the numbers are more than a month old and of course it does not include data for who may be (gasp) sharing a password. However, most of those 1 million users are new or lapsed subscribers, which could be a big boon for growth over the coming months. Digiday recently reported that Netflix was thinking about revising its advertising technology, despite their current partnership with Microsoft. This attempt to "overhaul" its relationship with Microsoft could mean Netflix wants to build or buy its own ad-tech systems.
Things are going to get interesting for the streaming platform, and soon. Netflix is planning to restrict password sharing in even more countries soon, including the U.S. where its biggest set of subscribers lay. Despite a rather confused password sharing crackdown in some countries in Latin America, Netflix's last quarterly report showed the number of subscribers worldwide, and in those countries, has increased. Yet the story could change for other countries. Starting in February, Canadian, Spanish, and Portuguese users were forced to pay more if they wanted to let friends and family share their account. How many additional accounts you can add depends on your plan, such that a Basic With Ads and Basic account can't add any extra members onto the profile. 
Of course, there were quite a few Netflix subscribers online publicly claiming they planned to nix their account over the password sharing crackdown, but Netflix likely understands this predicament, and is betting that it will make up any losses in both new subscribers and users who do agree to pay more to let their family use their account.
Although the price of Netflix's service has increased drastically over the past few years, Netflix reduced the cost of its service in several countries, including in Indonesia, the Philippines, Kenya, and more.