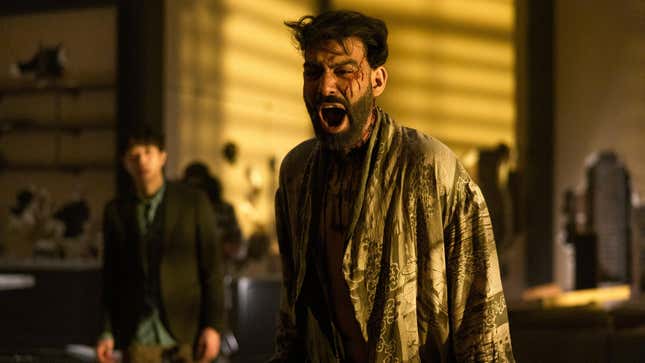 Though Mike Flanagan's made his share of feature films, he's achieved the most notice for his eerie, emotional, carefully plotted horror series. The latest from the creator of The Haunting of Hill House, The Haunting of Bly Manor, Midnight Mass, and The Midnight Club is the Edgar Allan Poe-inspired The Fall of the House of Usher, and we finally have a streaming date (October 12) and some intriguing first looks.

Here's the official synopsis, courtesy of Netflix: "From Mike Flanagan, the creator of The Haunting of Hill House and Midnight Mass, a wicked horror series based on the works of Edgar Allan Poe. Ruthless siblings Roderick and Madeline Usher have built Fortunato Pharmaceuticals into an empire of wealth, privilege, and power. But past secrets come to light when the heirs to the Usher dynasty start dying at the hands of a mysterious woman from their youth."
The Fall of the House of Usher runs eight episodes; it's created by Flanagan, and he'll direct four of the episodes, with Michael Fimognari handling the remainder. The cast is—as is tradition—packed with performers familiar to previous Flanagan projects, with some new faces also coming aboard. It includes Bruce Greenwood (who plays Roderick Usher), Carla Gugino, Mary McDonnell (Madeline Usher), Carl Lumbly, Mark Hamill, Michael Trucco, T'Nia Miller, Paola Nuñez, Henry Thomas, Kyleigh Curran, Samantha Sloyan, Rahul Kohli, Kate Siegel, Sauriyan Sapkota, Zach Gilford, Willa Fitzgerald, Katie Parker, Malcolm Goodwin, Crystal Balint, Aya Furukawa, Daniel Jun, Matt Biedel, Ruth Codd, Annabeth Gish, Igby Rigney, and Robert Longstreet.
Speaking to Netflix's Tudum.com last year during The Fall of the House of Usher's production, Gugino had this to say about her latest collaboration with Flanagan—with a hint about her character: "It's batshit crazy in the best possible way. It has quite a lot of very dark humor, but also really touches the soul ... There is a fantastical supernatural element to the story, and she is the manifestation of that. You could say she's the executor of fate or the executor of karma."
Um, yes. Sign us the hell up. If that wasn't enough to send shivers down your spine, check out all these photos Netflix just dropped—packed with so many meaningful glances, and at least one full-on shriek.