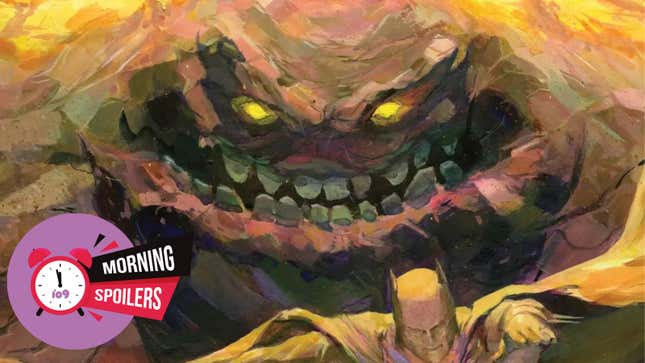 Clayface leers.Yesterday's news included speculation that Mike Flanagan—you know, the one who did Midnight Mass? The Haunting of Hill House? Haunting of Bly Manor? Upcoming director of The Fall of the House of Usher? That Mike Flanagan—had pitched a movie about Bat-villain Clayface to James Gunn. The famed horror director didn't deny it... and nobody else has either. Hey spoilers, what other Batman villain deserves their own spinoff?

---
Deadpool 3
Deadline reports both Karan Soni and Leslie Uggams will respectively reprise their roles as Dopinder and Blind Al in Deadpool 3.
---
Hope
Deadline also has word Alicia Vikander and Michael Fassbender are attached to star in Hope, a "largely Korean-language" survival thriller from The Wailing director, Na Hong-Jin. The film is said to follow "the residents of Hopo Port, where a mysterious discovery is made on the outskirts of the remote harbor town. Before long, the residents find themselves in a desperate fight for survival against something they have never encountered before."
---
Clayface
Mike Flanagan has reportedly pitched a solo Clayface movie to DC and James Gunn. Although Flanagan called the news "speculative," he also didn't deny it. And, interestingly, a tweet from 2021 (below the first two tweets) shows Flanagan has definitely been interested in directing a movie about the supervillain for years.
---
Thaw
Meanwhile, THR reports Lee Cronin (Evil Dead Rise) is attached to direct the aquatic horror movie, Thaw, for New Line Cinema. Based on a script by Jeremy Passmore, the story is said to be set "years after the polar ice caps have melted and sea levels have risen" and focuses on "a group of survivors at sea searching for a new home. Their prayers are answered with the discovery of an inhabitable town, that is, until they encounter a new nightmare living just below the water's surface."
---
He'll Come Knocking
According to THR, Patrick Brice (Creep) is attached to direct He'll Come Knocking, a film adaptation of the novel by Robert McCammon for Paramount. Adapted for the screen by Jordan Goldberg and Alex Paraskevas, the story focuses on "an ex-con who gets a new job in a revitalized factory town in the hopes of turning around his family's life, only to soon discover that their idyllic suburban dream requires a terrible sacrifice."
---
Thunderbolts
Variety reports Lee Sung Jin (Tuca & Bertie, Beef) has been hired to "rewrite" Marvel's Thunderbolts movie.
---
The Black Demon
Bloody-Disgusting reports Adrian Grünberg's Megalodon movie, The Black Demon, has been rated "R" for "some grisly images."
---


Beau Is Afraid
A new featurette goes behind-the-scenes of Ari Aster's Beau Is Afraid.
---
Jentry Chau Vs. the Underworld
Deadline reports Ali Wong, Bowen Yang, Lori Tan Chinn, Lucy Liu, Jimmy O. Yang, Sheng Wang and Woosung Kim will lend their voices to Jentry Chau Vs. tThe Underworld, a new animated series at Netflix from showrunners Echo Wu and Aron Eli Coleite. The series will follow "Jentry Chau (Wong), a Chinese-American teen living in a small Texas town, who finds out a demon king is hunting her for the supernatural powers she's been working her whole life to repress. With the help of her weapons expert great-aunt and a millennia-old jiangshi (Chinese hopping vampire), Jentry must now fight an entire underworld's worth of monsters while balancing the horrors of high school."
---
Yellowjackets
All 30 minutes of the recent Yellowjackets Q&A held before the season two premiere at the TCL Chinese Theater in Los Angeles is now online.
---
The Flash
Barry and Iris enjoy their own bottle episode in the trailer for "Partners in Time," next week's episode of The Flash.
---
Riverdale
Finally, the Archies have a sock hop in the trailer for next week's episode, "Skip, Hop, Thump!"

---
Want more io9 news? Check out when to expect the latest Marvel, Star Wars, and Star Trek releases, what's next for the DC Universe on film and TV, and everything you need to know about the future of Doctor Who.