Unless you're shelling out big bucks for business or first-class tickets, your in-flight entertainment system probably looks like something from the last decade. The monitors airlines put in the back of headrests are typically cheap, low-resolution, and have a pretty pathetic selection of content. That means you're usually better off pulling out your phone or tablet, and if the airplane's on-board wi-fi sucks too (which it probably does), you'll be limited to whatever you managed to download before you sat down.

But at an airline trade expo this week, Netflix announced a new initiative that could make flying the friendly skies a little friendlier by bringing faster wi-fi to multiple airlines. The company will be launching a new service called "Netflix Inflight 2.0" which will provide better tools and info to airlines offering in-flight streaming media. Netflix says the new service should improve buffering times and help reduce bandwidth, so that carriers "can now support and promote certain in-flight services as a core part of [the airline's] offering rather than sticking it on some kind of premium tier."
From there, the idea is that airlines would be able to offer free or low-cost wi-fi so that existing Netflix users could sign into their accounts and stream shows and movies as usual, while others could sign up for free trials and access a much larger in-flight video library than offered by any traditional airline entertainment system.
Don't expect full 1080p quality, however, as bandwidth will be limited to around 250 kbps, which is closer to a standard-definition DVD. But, hey, that's still better than what you'd normally get.
Netflix pioneered this model by partnering with Virgin America to offer free in-flight wi-fi in 2015, before expanding the program to other airlines including Qantas and Aeromexico. While Netflix hasn't mentioned specifically what airlines it wants to partner with, it probably won't include carriers such as United or JetBlue, which have already teamed up with DirectTV for their in-flight entertainment.
G/O Media may get a commission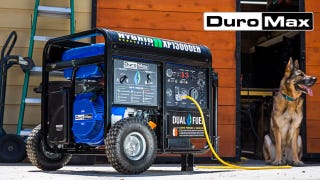 Black Friday Sale
DuroMax Generator Sale