You've seen sneak peeks of J.J. Abrams Undercovers and the show some people are calling the new Lost, The Event. But now see the full-length feature trailers, clips and interviews. Plus True Blood's full-length season 3 promo has been released!
Futurama
Futurama is back this June, and this is the first trailer promoting it's triumphant return to Comedy Central, on June 24th at 10PM. Until then find out how and why Zapp and Leela ended up all with nothing but the leaves to cover their shame in this new gallery of images. Including a story-board break down of the "Adam and Eve" scene you see above.
G/O Media may get a commission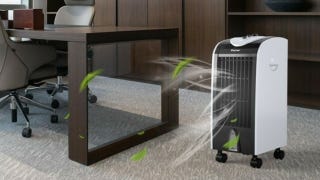 Save $10
Evaporative Portable Air Conditioner Cooler with Filter Knob
[Via Futurama Facebook Page]
True Blood
Last week you saw the teaser — today, True Blood has the full reveal. Find out who's back, who's a dog, and whether Vampire Bill back even wants smelly old Sookie back. Check out the whole video and Bill's delightful phone etiquette. P.S., Eric is evil.
True Blood is back June 13th. Also, you can download the new werewolf-centric TB poster at HBO.
Undercovers
J.J. Abrams new married spies dramedy released its trailer and a few clips at NBC's upfronts this morning. Here's the round-up, including an interview with Abrams. Undercovers will air at 8 PM on Wednesdays.
Synopsis:
For Steven and Samantha, lives hang in the balance when they rejoin the CIA to rekindle their relationship. This spy drama proves that marriage is still the world's most dangerous partnership
Feature Trailer:
Clip 1:
Clip 2:
J.J. Abrams on Undercovers:
Gugu Mbatha-Raw Interview Undercovers:
The Event
Also out today was the full feature trailer, and a new clip, from NBC's The Event, which feels like Lost and 24 had a baby, and then left it outside so it could be raised by wolves. We're really not sure which way this series is going to go at all, but that's probably the point. But maybe this synopsis will help:
When an average guy stumbles upon a secret so powerful it could change the course of humanity, and a cover-up so big that the President is on a need-to-know basis, answers can only lead to bigger questions.
Nope. The Event will air on Mondays at 9 M.
Feature Trailer:
Clip 1:
Cast Interviews The Event: