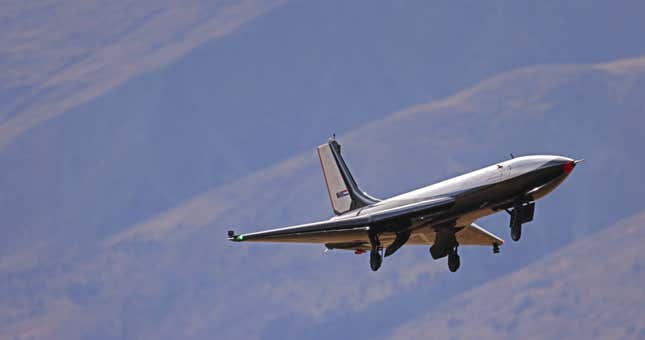 New Zealand-based private space company Dawn Aerospace says it has completed three successful tests of its prototype Mk-II Aurora spaceplane using rocket engines. A scaled-up version of the suborbital vehicle could eventually perform multiple flights each day, sending payloads on journeys to low Earth orbit.
Astronomers Could Soon Get Warnings When SpaceX Satellites Threaten Their View
Dawn Aerospace received approval from the Civil Aviation Authority of New Zealand in late March for rocket-powered flights of the Mk-II Aurora. Originally, flights under rocket power were scheduled to begin in early April, but Dawn Aerospace told Gizmodo in an email yesterday that the company completed three successful flights—one per day—between March 29 and March 31 at Glentanner Aerodrome in Glentanner, New Zealand, using the spaceplane's rocket engine.

"These flights were a monumental achievement for Dawn Aerospace, and the result of years of hard work from the team," said CEO Dan Hart in an emailed press release. "To have demonstrated rapid reusability in the first tests is proof of our core philosophy, and confirmation that rocket-powered vehicles can be operated just like commercial jet aircraft."
During these tests, the Mk-II Aurora reached speeds of up to 195 miles per hour (314 kilometers per hour) and altitudes of 6,000 feet (1,829 meters). Dawn Aerospace says the attained heights and speeds are on par with previous tests of the plane under the power of a jet engine. While the primary goal was to test the Mk-II Aurora with the company's rocket system, Dawn Aerospace said the recent tests also demonstrated the vehicle's integration with air traffic and potential for rapid reusability, with two of the three tests occurring less than 24 hours apart.
"The best bit was seeing the huge amount of work we've put in realised. Having the tests run so smoothly was amazing—and the sound, that was epic," said Juliet McLachlan, flight software engineer for Dawn Aerospace, in a separate statement emailed to Gizmodo by a company spokesperson.
Dawn Aerospace Mk-II Aurora Rocket Engine Test
Dawn Aerospace Mk-II Aurora Rocket Engine Test
The Mk-II Aurora is a remotely piloted spaceplane that could eventually take multiple trips into suborbital space every day, taking off and landing on runways much the same way a traditional jet would. As testing continues, the Mk-II will also host research projects and collect scientific data with its onboard 3U payload capacity (i.e. 30 cubic centimeters in size) while serving as a proof of concept for a later model—the Mk-III Aurora—that could deliver 550-pound (250-kilogram) satellites into orbit with the help of a second stage rocket.
There are more rocket tests to come for the Mk-II Aurora according Dawn Aerospace, with these first tests of the spaceplane's rocket engine only the beginning of the company's second phase of testing. In Phase 2, Dawn Aerospace will push the Mk-II Aurora to higher altitudes and faster speeds in what the company refers to in its press release as a "build-up" approach.
The end goal of Phase 2 will see the company push Mk-II Aurora to higher and higher altitudes over a series of tests until it crosses the Karman line, which is about 62 miles (100 kilometers) above the Earth's surface and the internationally recognized boundary of space.

For more spaceflight in your life, follow us on Twitter and bookmark Gizmodo's dedicated Spaceflight page.