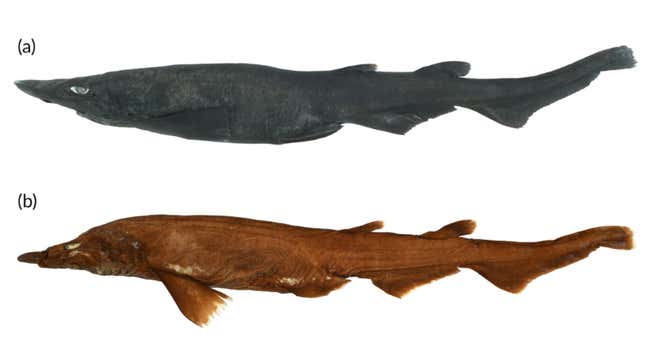 Bizarre egg cases at a museum led scientists to some serious nightmare fuel off the coast of northwestern Australia. The egg cases belonged to a previously misidentified species of deepwater catshark that is now called Apristurus ovicorrugatus, a creature that features milky white eyes.

The Boogeyman's Sophie Thatcher Reveals What Draws Her to Dark Characters | io9 Interview
Researchers found the uncatalogued egg cases in a collection of fish samples held by the Western Australia Museum and the Australian National Fish Collection from the Commonwealth Scientific and Industrial Research Organization (CSIRO). The eggs had an odd, ridged texture, and these unidentified samples led the team to a dead, pregnant female shark specimen in storage that carried the same eggs. The specimen had been collected off the coast of northwestern Australia, from water more than 1,800 feet (550 meters) deep.
After studying the shark and its embryos more closely, the researchers found that the specimen was misidentified as Apristurus sinesis. They are now dubbing the deepwater shark A. ovicorrugatus, which is Latin for "corrugated egg." An adult female is a meager 1.5 feet (0.46 meters) long. A. ovicorrugatus features milky white irises, living up to the demon shark nickname given to the Apristurus genus. The findings were published last month in the Journal of Fish Biology.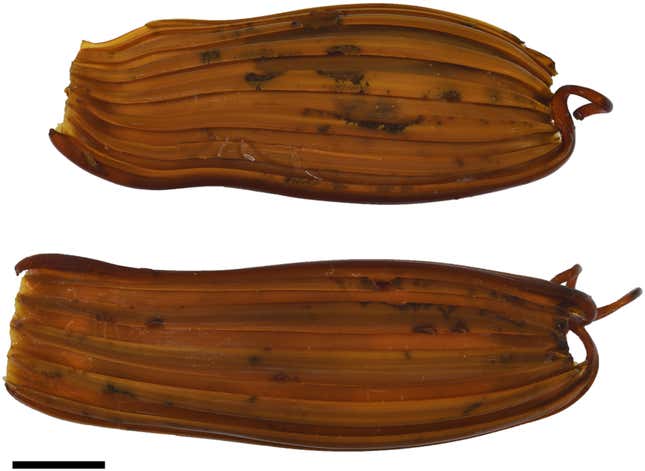 "The egg cases possessed very distinctive longitudinal ridges on their surfaces which were T-shaped in cross-section," lead author William White told Live Science. "Only one other species in the world has been found to have egg cases with that form of ridging and that is a different genus entirely."
According to the study authors, only two species of Apristurus have been recorded off the coast of northwestern Australia so far, making the discovery of Apristurus ovicorrugatus an exciting find. The research is likely a welcome addition to the shark biology community, especially after a group of researchers retracted their manuscript in March that described the supposed first sighting of a goblin shark in the Mediterranean Sea. Experts had argued that the photographed goblin shark specimen was actually just a plastic toy.