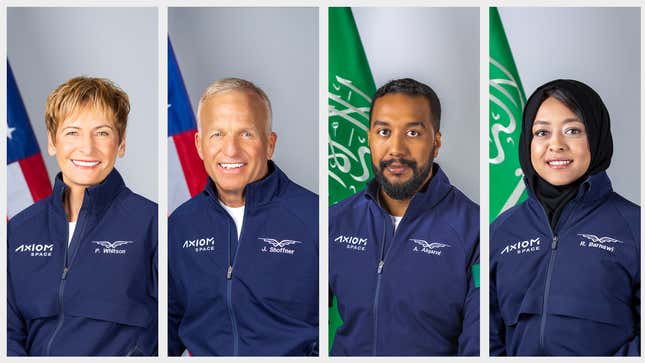 Axiom Space is getting ready to launch its second private mission to the International Space Station (ISS), applying valuable lessons learned from the company's inaugural crew experience as it prepares for its own space station in low Earth orbit.
Astronomers Could Soon Get Warnings When SpaceX Satellites Threaten Their View
Axiom Mission 2, or Ax-2, is slated for launch on May 8 on board SpaceX's Dragon spacecraft. Four astronauts will spend 12 days on the ISS in a follow-up to the first private mission by Axiom, Ax-1, which launched to the ISS in April 2022.
"We had about 200 lessons learned that we went through," Michael Suffredini, CEO of Axiom Space, said during a press call on Thursday. "You figure out what you can do better next time and then you make the changes, so Ax-2 is just another step in the process from that standpoint."
Following the return of the Ax-1 mission, NASA admitted to having learned some important lessons about these private trips to the ISS. The Ax-1 crew members complained that their schedules were too packed and the private astronauts sometimes got in the way of the space station's regular crew. As a result, the space agency updated a few of its rules for future private astronauts venturing into space. Most importantly, the new requirements now call for all future missions to be led by a former NASA astronaut.
The Ax-2 crew will be led by Peggy Whitson, Axiom Space's director of human spaceflight and a former NASA astronaut, who will serve as the Ax-2 commander. Whitson will be joined by Ali Algarni and Rayyanah Barnawi, two Saudi astronauts who snagged spots on the mission through an arrangement between Axiom Space and Saudi Arabia. John Shoffner, who purchased a ticket to space through the company in 2021, will pilot the mission.
"It's been really great working with NASA to come up with how to optimize our trainings based on our lessons learned," Whitson said during the press call. "We felt like the training needed to be improved and increased in certain areas and decreased in other areas...and with NASA, we have modified the training and made those suggestions."
During the call, Axiom's Suffredini expressed the company's desire to launch a private crew to the ISS twice a year. "We expect to fly as often as NASA has opportunities, but of course we compete for those," he said. NASA recently signed a contract with Axiom for a third private mission to the ISS, which could fly as early as November depending on spacecraft traffic to the orbiting station. The space agency had initially rejected Axiom's proposal for a third ISS mission, calling on its commercial partners to submit proposals for two more private astronaut missions in September 2022. But NASA apparently had a change of heart, selecting Axiom for a third mission while a fourth mission still hangs in the balance for the company.
However, Axiom isn't planning on NASA for perpetual access to space. Instead, the company is in the midst of building its own space station in low Earth orbit, which it hails as the "successor to the ISS." Axiom is planning on sending the first module of its space station in 2025, followed by a second module in 2026, according to Suffredini. The two modules together will house a crew and have two docking ports, with a science and research module that will follow later that same year.
With the launch of its Axiom station modules, the company wants to start sending its crews at its own will. "We'll have a little more access and flexibility,"said Suffredini, and "at that point we'll start to increase our tempo a little bit based on what customer demand is."
As for building Axiom Station, Suffredini said the ISS still stands as an inspirational model, but that the company will also benefit from various technological advancements made in the last 30 years to help advance the design of its own space station.
"The ISS is a fantastic spacecraft and it was a great sight to behold when it was assembled," he said. "Its design started back in the 70s so its engineering was based on what we knew at the time...we're benefiting from all of that, we get to start on a clean sheet of paper and it's allowed us to build what we think [will be] a very capable spacecraft."
For more spaceflight in your life, follow us on Twitter and bookmark Gizmodo's dedicated Spaceflight Spaceflight page.