J.J. Abrams explains why his new mysterious-island show Alcatraz won't be another Lost. Torchwood: Miracle Day just keeps adding awesome guest stars. Plus a cool new Super 8 poster and our first look at the third season of Warehouse 13.
Spoilers from here on out!
Top image from Super 8.
Green Lantern
Mark Strong offers some insight into Sinestro:
"[The] truth is, knowing what happens to Sinestro defines the way he behaves in this film. Even though in this first one he is essentially a hard task master for Hal, he's his mentor as he comes into the Corps, and he obviously doesn't believe humans should be members of the Corps, so he's pretty antagonistic towards Hal... There's a streak of arrogance and danger about him... I see him in this as a military commander, and that's how he needs to be, to control the Corps. And they are facing very dangerous enemies, so he is in protection mode. But he's not evil in this first movie, in the way that we understand him to become."
You can also get a comprehensive roundup of various set reports, quite a few of which stress how epic the movie looks. [ScreenRant]
Here's a new TV spot.

---
X-Men: First Class
Nicholas Hoult offers some key details on how he transforms into Beast and what this character is like:
I play Dr. Hank McCoy, and he later on becomes Beast. He's a young scientist - a very clever guy - but a little bit shy and awkward around the girls and just socially awkward around the group. He's a good guy, but it's hard work. He's a great scientist though and he comes up with all of these inventions that sometimes work and sometimes don't, and then he tries out a serum from Mystique's DNA to try and stop his feet from appearing apelike and massive, so he can fit in because he's very self-conscious about it, and unfortunately that goes wrong and he becomes the Beast that we know from the other films and cartoons and comics. He's very urbane and witty and a shrewd guy. It's fascinating to see the difference, when he becomes the Beast, from this very animalistic and scary-looking character. The Beast we've got is very different to Kelsey Grammar's Beast. People are quite intimidated by it, and it's great to have that with the contradiction of the character with somebody who's not that comfortable with himself.
G/O Media may get a commission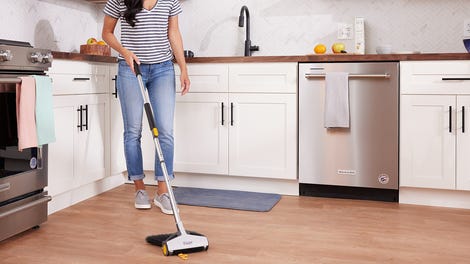 BOGO 50% Off
Flippr - BOGO 50% Off
He also offers some hints on how he fits into the action scenes:
I get some very cool action. Azazel and I have a great fight at one point. So far the stunts that I've done I've been rubbish at. I took a big hit on my head, and a big hit on my foot so far. Spinning around on wires and stuff. There's definitely some very cool action. I'm in the Beast suit for the final fight, which we're about to shoot in Georgia, and that's going to be very tricky negotiating the suit and the heat and everything.
[IGN]
In case you missed these the first time around, here are the character bio videos for Banshee, Beast, Havok, and Mystique, now in easier-to-watch YouTube form.

Here are a few more promo photos. [SpoilerTV]
---
Super 8
Here's a small version of the new Japanese poster that pays homage to Close Encounters of the Third Kind. You can see a much larger version at the link. [FirstShowing.net]
---
Neuromancer
Splice director Vincenzo Natali's adaptation of William Gibson's classic novel is apparently still happening, at least if a press release is anything to go by. It says the movie has gotten distribution in several countries at Cannes, and principal photography will happen in "Canada, Istanbul, Tokyo, and London." The movie will hopefully start filming in 2012, and visual effects work has already begun. Check the link to read the whole thing. [ShockTillYouDrop]
---
Dark Shadows
Warner Bros. has released a full synopsis, which confirms the movie is set in 1972 and reveals that Jonny Lee Miller has joined the cast:
In the year 1752, Joshua and Naomi Collins, with young son Barnabas, set sail from Liverpool, England to start a new life in America. But even an ocean was not enough to escape the mysterious curse that has plagued their family. Two decades pass and Barnabas (Johnny Depp) has the world at his feet-or at least the town of Collinsport, Maine. The master of Collinwood Manor, Barnabas is rich, powerful and an inveterate playboy…until he makes the grave mistake of breaking the heart of Angelique Brouchard (Eva Green). A witch, in every sense of the word, Angelique dooms him to a fate worse than death: turning him into a vampire, and then burying him alive.

Two centuries later, Barnabas is inadvertently freed from his tomb and emerges into the very changed world of 1972. He returns to Collinwood Manor to find that his once-grand estate has fallen into ruin. The dysfunctional remnants of the Collins family have fared little better, each harboring their own dark secrets. Matriarch Elizabeth Collins Stoddard (Michelle Pfeiffer) has called upon live-in psychiatrist, Dr. Julia Hoffman (Helena Bonham Carter), to help with her family troubles.

Also residing in the manor is Elizabeth's ne'er-do-well brother, Roger Collins (Jonny Lee Miller); her rebellious teenage daughter Carolyn Stoddard (Chloe Moretz); and Roger's precocious 10-year-old son, David Collins (Gulliver McGrath). The mystery extends beyond the family, to caretaker Willie Loomis, played by Jackie Earle Haley, and David's new nanny, Victoria Winters, played by Bella Heathcote.
---
Oz the Great and Powerful
Blue Valentine and Brokeback Mountain actress Michelle Williams is reportedly in talks to play Glinda the good witch, potentially joining Rachel Weisz and Mila Kunis as her less benevolent sisters. And reportedly, Williams has supposedly been cast over the objections of Raimi, who wanted Hilary Swank for the role. [Variety]
---
Seeking a Friend at the End of the World
Steve Carell and Keira Knightley's "pre-apocalyptic comedy" has released its full cast and a rather vague plot description. The extremely promising cast includes:
Connie Britton (Friday Night Lights), Adam Brody (The OC), Rob Corddry(Children's Hospital), Rob Huebel (Human Giant), Gillian Jacobs (Community), Derek Luke (Antoine Fisher), Melanie Lynskey (Away We Go), T.J. Miller (Cloverfield), Patton Oswalt (Big Fan), William Petersen (CSI), Roger Aaron Brown (The District), Tonita Castro (The Sarah Silverman Program), two-time Academy Award nominee Melinda Dillon (Close Encounters of the Third Kind), Mark Moses (Desperate Housewives), Lindsay Sloane (Horrible Bosses), and Bob Stephenson (Jericho).
And here's that plot description, though it doesn't offer too much by way of new information:
Set in a too-near future, Seeking a Friend for the End of the World explores what people will do when humanity's last days are at hand. Can one man find his greatest love at the worst possible time? As the respective journeys of Dodge (Mr. Carell) and Penny (Ms. Knightley) converge, the two spark to each other and their outlooks – if not the world's – brighten.
---
Doctor Who
Here's an introduction to "The Rebel Flesh" from writer Matthew Graham, actor Arthur Darvill, and director Julian Simpson.

---
Torchwood: Miracle Day
This series is apparently intended as a love letter to anyone who spent the last 15 years watching way too much TV, as three more cast members have been announced: Star Trek: Deep Space Nine's Nana Visitor, ER and Grey's Anatomy actress Mare Winningham, and Frances Fisher, who played Eva Thorne on Eureka and Rita in The Shield. [Doctor Who News Page]
And here's an interview with John Barrowman, Bill Pullman, and executive producer Julie Gardner.

---
Fringe
Here's the first video offering a look ahead at season four.

David Fury, whose previous writing credits include Buffy, Angel, Lost, and 24, has joined the show as a writer/producer. [SpoilerTV]
---
True Blood
Episode 11 of season four will reportedly be called "Soul of Fire." [SpoilerTV]
---
Alcatraz
J.J. Abrams discusses his latest series:
"The premise from the very beginning is something I knew I would watch. And that's certainly not an arbitrator of what anyone else would watch, but I knew it was a good place to start. There's a kind of intrigue about Alcatraz. I heard the name and I thought, 'How could there never have been a show called Alcatraz?' I liked the idea of a show looking backwards in order to prevent what's going to happen looking forwards. The idea of the worst of the worst being sent to that place. What happens if they all disappeared one day, and what happens if they suddenly came back and had not aged a day? That notion was so kick ass."
He also says that Fox insisted the show have a clear idea where it was going, lest it fall into some of the same traps Lost had difficulty with:
"Fox wanted to know what they were getting into, they did not want to get into a situation where it was a completely up-for-grabs scenario. They asked for the explanation of what's going on to a large degree. Obviously they didn't say, 'Give us every script synopsis and tell us what happens in the series finale,' but they wanted the main headlines of what the show is about, what the backstory is. The fact that Fox asked for that was a massively helpful thing for all of us. This is a very specific stand-alone show seeing these prisoners come back every week, but there's also this [overall mythology] story that will be a part of the tentpole episodes of the show."
There are a few more details at the link. [EW]
---
Warehouse 13
Here are some promos for the season three premiere, "The New Guy", featuring Smallville's Aaron Ashmore taking over (at least for now) as Pete's partner. And it would appear that the show is wasting no time in bringing back Myka, even if it means temporarily sticking Joanne Kelly in some truly epic nerd glasses. The episode itself doesn't air until July 11, so don't get too excited just yet. [SpoilerTV]
---
Additional reporting by Gordon Jackson and Charlie Jane Anders.