The FuelBand was Nike's first foray in fitness trackers, a sleek, stylish piece of wristwear that served as a constant reminder to be less lazy. The FuelBand SE is its wearable tech successor. But aside from a new splash of color on the band, it doesn't offer many more ways to make you move your butt.
What Is It?
A $150 bracelet that tells you how much you're moving in terms of Nike's homegrown fuel points metric. And what is a fuel point exactly? Well, that's not entirely clear. It's Nike's way of taking into account how much you're moving based on data from a three-pronged accelerometer.
Why Does It Matter?
In the time since the original Fuelband was released, a plethora of highly capable fitness trackers—like the Fitbit Force and Jawbone UP24—have hit the market. Each is more feature-packed than the last, which means the Fuelband has some catching up to do. Unfortunately, that mostly takes the form of nicer packaging.
G/O Media may get a commission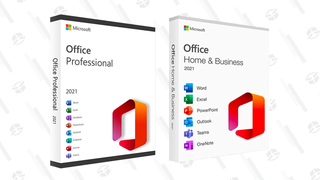 89% off
Microsoft Office Professional 2021 Lifetime License
Design
A small, black wristband with an LED display that shows the time, how many fuel points you've earned, and how many hours you've won (i.e. made enough progress toward your ultimate daily goal). Underneath it, a simple row of LEDs show how far you are from said goal.
All of this is to say, FuelBand SE is basically the same as the first FuelBand, aside from your color options. Ooooohhhhhh the color options. The clasp of the band now comes in neon flavors—orange, pink, green, or white—as well as precious metal versions including silver, rose gold, and gold gold. It also comes in small, medium, and large sizes, depending on whether your wrist is more bird or bear.
This iteration of Nike's tracker runs on Bluetooth 4.0, so you get several days on a single charge, as opposed to just one or two. It's also more waterproof than the last one, and lets you double tap to see the time. Other than that, it's more of the same.
Using It
You enter your height, weight, and age, in the (iOS-only) app or desktop client, and set a goal for how many fuel points you want to reach each day. Nike will tell you the average number of fuel points for your demographics and you can go from there. I settled on 3,100, which was pretty easy to achieve on a normal weekday where I'm walking to and from the train in the morning and evening, spending the hours in between in front of a laptop, and usually hitting the gym at night. If I didn't make it to the gym, I often fell short of that goal, although I didn't necessarily need to work out to reach it.
Unfortunately there is no Android app, which is pretty bad considering there's a whole slew of Android-friendly fitness trackers to pick from, and because checking from your phone is way more convenient than huddling up with your desktop to chart your progress. In the iOS-only app, you can view your fuel point data down to every hour on a single day. How many points did I earn from 2-3pm? A paltry 97 because I was sitting and blogging. But what about from 7-8? 677, because I went on a run. And how did that average out for the entire day? And how does it compare to other weeks? Nike will serve up all that info. It's cool to see how much you use, with the caveat that fuel points are a pretty vague metric.
Look at it this way: they say just skimming nutritional information on food packaging will motivate you, even subconsciously, to eat a little bit better. Wearing a FuelBand on a daily basis might similarly give you the little boost you need. However, simply wearing a FuelBand isn't going to make you drop a pants size if you can't motivate yourself to get off the couch.
And if you're already active, you might end up forgetting about your FuelBand altogether, like I began to do after I had worn it for a little more than a week. The SE is more waterproof than its predecessor, but it's still the kind of thing I'd take off in the shower, which meant sometimes I'd forget to put it back on, and then I'd just neglect to wear it for the rest of the day. Oops! Nike certainly pitches the FuelBand as something that's intended to make you think more about fitness, and that's not a bad thing. But it doesn't show you how your fitness is going with much specificity, and your points aren't quantifiable in a way other than the one Nike has invented.
The FuelBand lasts you about 10 or so days on a single charge, so there's no need to worry about plugging it in all the time. That Bluetooth upgrade means you don't waste juice searching for a connection, and it's always sending data to the app and desktop client. In that sense, it's nice, because the FuelBand is monitoring you like a constant Mickey Goldman on your arm. Just without all the yelling.
I would regularly check my FuelBand after certain activities to see if I was on track to hit my Fuel goal for the day. It was always kind of funny to see how many points certain activities would earn me. For example, a trip to the gym where I was running on the treadmill for 20 minutes and doing maybe 10 minutes of weights would easily tally up around 1000 points. But my morning commute—which is about 10 minutes of walking and 20 minutes of train riding—would rack up something like 500 points. And hanging from a strap crammed into a crowded subway is certainly some kind of exertion, but not the kind that's going to get me in shape. This is where a feature like a heart rate monitor would come in handy.
Like
The main thing the FuelBand has going for it is the cool factor. It's Nike! It's stylish! Look, athletes wear it, or at least according to promotional events and adverts, they do. All-stars like Shawn Johnson, Victor Cruz, Ashton Eaton? They were all at the launch event to woo human blob bloggers writing about the device.
I liked that the FuelBand looks good with whatever I'm wearing, whether it's to go to the gym or to go to dinner. It's like a little piece of jewelry that reminds you not to be such a lardass.
No Like
Nike says it improved the algorithm for how it tracks your movement. How it did so, exactly, is unclear. Yes, the accelerometer picks up on info like how many steps you've walked and at what speed and such, but it doesn't really seem like it's tracking that much. Or at least, that it's not tracking the very important how.
People would regularly notice this rubbery bracelet designed to help me get swole as hell, and they'd ask what it was. When I'd explain how it worked, I'd use a few demonstrative fist bumps to boost my fuel points from, say, 2180 to 2186. So while, sure, you definitely earn more points the more you move and the faster you move, ultimately, the FuelBand feels a little pointless and easy to manipulate.
I also somehow ended up nabbing the most points while engaging in risk behaviors. You'd be surprised how many points you get while lifting beers that long distance from the table to your mouth hole over and over and over. Yes, it's possible to binge drink your way to success—Nike's version of it, anyway.
The FuelBand also notably, still lacks both an altimeter and heart rate monitor, both of which would enrich the data immensely. Now, the heart rate monitor is less of an oversight at this point, because not many other fitness trackers have 'em. The Basis Band does, but we also found that it was also kind of ugly and buggy. The lack of an altimeter is a bigger issue, because the amount of calories you burn walking up a hill versus walking on a flat street is very different.
Also, not having an Android app for a major device in 2013 seems like an inexplicable snub.
Should You Buy It?
I won't be buying a FuelBand until it has a heart rate monitor and an altimeter. For now, after a few days, the novelty of the gadget wears off when you realize the data doesn't really tell you much more than how much you moved, in the broadest of strokes, compared to the previous day.
If you have a first-edition FuelBand, there isn't really a point in buying a new one. You get many of the features you want in the Fuel app update, anyway. That includes the activity curve, which shows you how many Fuel points you're earning throughout the day, as well as the ability to share activity with friends and add location. Your band will also be able to track yoga activity and sleeping habits, which is another area that's sort of murky on the how front, but is also something it couldn't do before.
In any case, if you're looking to get your first activity tracker, the FitBit Force is much more accurate and specific, and it's $20 cheaper at $130. It has a screen that shows you time, distance, steps, floors, and time. It also syncs with apps like RunKeeper and Endomondo to take that data into account. The FuelBand doesn't do most of those things, in a way that's all to easy to quantify.