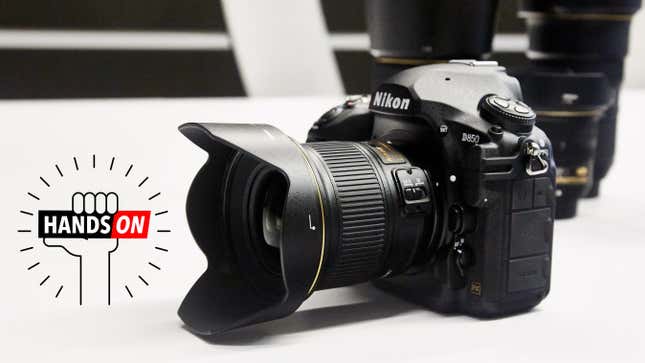 DSLR cameras, the big bulky Nikon and Canon cameras you see photographers and your cousin Mimi rocking at weddings, aren't going to go away any time soon, but mirrorless cameras, like the excellent Sony A9, have gotten good enough to make the Nikons and Canons of the world scared. So Nikon's latest full frame professional camera, the D850, borrows some pro experiences from it's mirrorless rivals: Including a tilting display, focus stacking, and mirror-free shooting.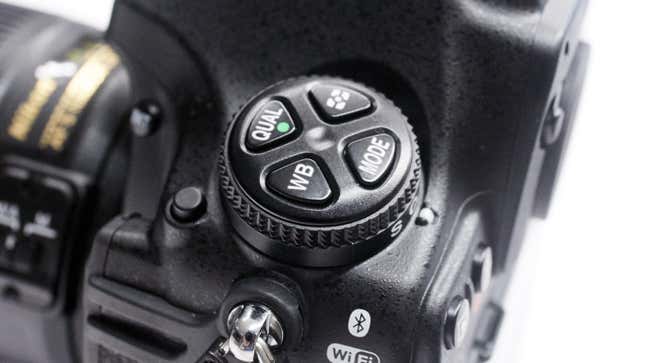 The D850 is the successor to the Nikon D810, a full-framed Canon 5D competitor introduced back in 2014. While the body is similar, the D850 looks like it will be a big upgrade in every way. The image sensor has blown up from 37.09 megapixels to 45.7 megapixels. It can shoot 4K video at 30 frames per second and 1080p video at 120 frames per second, when the D810 could only do 1080p up to 60fps. It's also using the same 153-point autofocus system as the $6500 Nikon D5. That makes the D810's 51-point autofocus system seem utterly lame in comparison.
Yet these kind of crazy specs are to be expected from Nikon's workhorse pro camera. That's practically the bare minimum it would need to stay competitive with shooters like the $4500 Sony A9 and $3300 Canon 5D Mark IV. If Nikon wants to make a really incredible camera that will entice new users it needs something super slick.
G/O Media may get a commission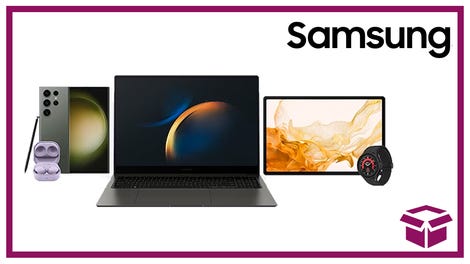 24 hour deals
Discover Samsung - Daily Deal
First up is the display around back. It actually tilts! It's a $3000-plus DSLR with a LCD touchscreen you can tilt! I'm using exclamation points because that is sadly a big deal! That's because tilting displays, while common are cheaper cameras, are utterly absent from high-end cameras geared towards professionals. The Nikon representative, while briefing Gizmodo on the D850, was quick to point out that the screen's range of movement, compared to products like the Canon 6D Mark II, was intended as a compromise for video shooters, who need a screen they can adjust, and camera users shooting in extreme environments full of dust and moisture. A more flexible display might have made the D850 less durable, while a display with zero range of movement would have been the exact same thing you get with the Canon 5D Mark IV.
Next up is the focus stacking ability. If that's leaving you confused it's okay. Think of it sort of like HDR photography, only instead of taking multiple photos to get the ideal exposure for every point of the image, focus stacking takes photos at a range of focal points to give you an image that is entirely in focus. This is a useful feature if you have to shoot a still life and don't want to lose light by altering the aperture.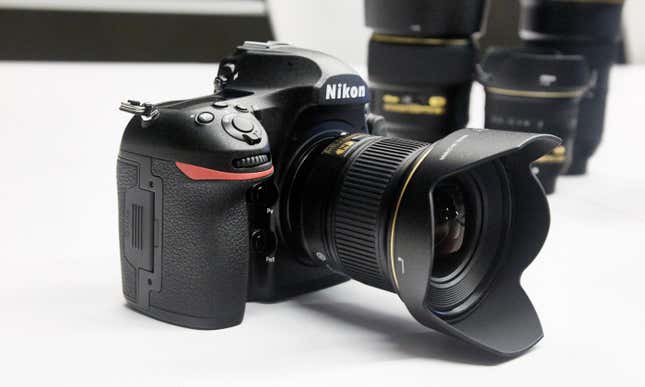 While Nikon didn't allow me to snatch the D850 up and run around town snapping photos, the representative did guide me through the entire focus stacking process, and if it works as well in the retail D850 as it did in the demo unit I got to play with, then Nikon shooters should be in for a treat. The focus stacking mode was fast and smooth—though, as with HDR shooting, it will definitely require a tripod and a trip into Photoshop to stitch the images together.

But what won't require a tripod or Photoshop is the silent shooting mode. DSLRs make a loud noise every time they take a photo, and besides weight and size, that audible noise has been one of the primary features settings DSLRs apart from mirrorless cameras. That click, every time you shoot, is so pleasant mirrorless cameras actually purposely emulate it. But that click can be distracting too—especially when you're shooting a wedding, stage play, or any other public event where people don't need the noisy distraction.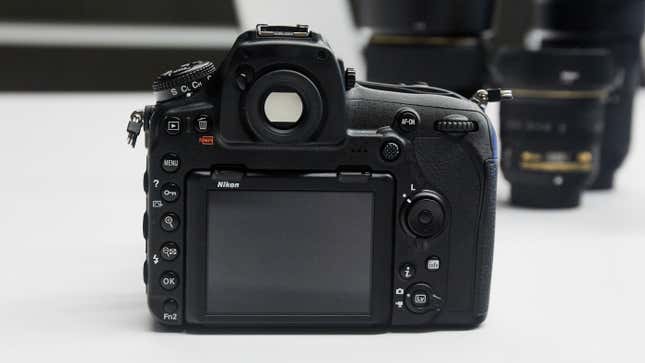 So Nikon just locks up the mirror on the D850 and lets you shoot 6 frames per second with an electronic shutter instead. That's not much different than the 7fps you can shoot in regular mode (or the 9fps you can shoot if you install an additional battery grip). In fact the only real downside to silent shooting is that the camera won't automatically refocus when trying to blast through six frames every second. But if you're just grabbing the big kiss during a wedding or snatching little Peter's pirouette at the recital it should be more than enough.

It's also proof, as Nikon's representative confirmed, that Nikon is very aware of its competitors beyond Canon, and knows it needs to be as technically savvy as slick shooters like the Sony A9. At $3300 for the body alone, there's no question the Nikon D850 will take gorgeous pictures worthy of a spread in a magazine. Yet with some of those cooler features (gimmicks) Nikon might just be able to break away from the pack of other high end cameras. Yet we won't know for sure until we get our hands on one for review, and if you want to learn more yourself you'll need to wait until September 2017 when Nikon expects to start shipping.