The basic premises of going to a restaurant haven't changed tremendously throughout history. You sit down. You order. It shows up. Maybe it's good. But new, high tech establishments around the world are putting a innovative spin on eating out.
1. Inamo, London


Inamo's claim to fame is its sophisticated ordering system—no waiters to be found, be they cranky or hospitable, but rather a projection interface that turns your entire table into a touchable menu. The eatery's Asian fusion fare is visualized on the tabletop itself—just touch and go. But visuals aren't just for the menu—the projector will let you customize your dining experience with various virtual "table cloths," distract your screaming children and/or younger siblings with games, or even watch a chef prepare your meal via cam. This all may be bit on the sensory overload side, but perhaps perfect for an awkward blind date where neither party will have much to say.
"Hey! Look at.. the table. You can touch it, and it changes."
"Yes. It does."
"..."
2. 4food, New York


G/O Media may get a commission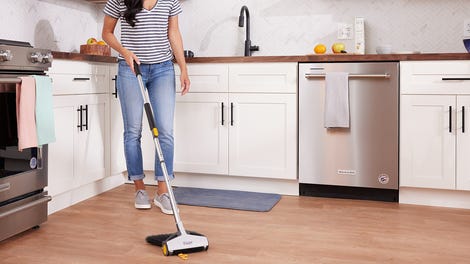 BOGO 50% Off
Flippr - BOGO 50% Off
4food, a new burger spot in midtown Manhattan, attempts to smash every norm you'd expect from a lunch break burger joint. The menus? iPads. The decor? A giant wall of cascading tweets. The patties? A sci-fi ring shape. 4food even tacks on a social networking component to your dining experience, allowing you to customize and share your own burger combo and earn store credit if other diners order it—a neat incentive to get you back to filling your jaws. If you stop by, make sure to try the mac & cheese option.
3. Bones, Atlanta


Famed steakhouse Bones earned its geek cred for upping wine sales by 11% in just three weeks as soon as it ported over its list to a fleet of iPads. If you're anything like me, navigating a traditional paper wine list is an exercise in being both ignorant and broke and not wishing to appear as these things—and usually turns into a nervous guessing game. But Bones lets diners act as their own sommeliers by browsing reviews paired with the restaurant's staggering 1,350 label list. Bones rakes in the dough, and you make an informed choice (and don't look like a clueless putz). Everyone wins!
wd-50, New York


4. Though some decry its methods as pure gimmickry, molecular gastronomy landmark wd-50 is a food nerd's dream (and just a regular nerd's dream too, probably. We all gotta eat!) The establishment embraces fine cooking as chemistry—and it is, really—turning familiar dishes into visually striking (and rather yummy) foams, gels, and other foreign forms. Eggs benedict cubed says it all. Chef and owner (and molecular gastronomy poster boy) Wylie Dufresne says "in the last 15 years we've learned more about cooking than we have in the 15,000 years prior to that." The idea of the kitchen as a laboratory is definitely an idea we can get behind. When it comes to the delicious, let's never be afraid of progress.
5. FoodParc, New York


FoodParc's main techie draw is its ordering system, which is simple, efficient, and sleek—letting wonderful sounding treats like sugar and spiced bacon (DEAR GOD) and dim sum stand out on their own. Patrons select their food from a large touchscreen menu at one of four themed food stalls, and are then informed via text when the meal is ready to pick up—and feel free to watch a progress bar charting your order's pace if you're feeling impatient. Or, while waiting, instead of salivating, you can take in some video entertainment, thanks to a bevy of mounted televisions.
6. `s Baggers, Nuremberg


It looks like something from a Rube Goldberg diagram. Plates on rails—a dizzying network of them, that spans the entire restaurant—send orders flying about. With the exception of kitchen staff, the entire fast food joint is automated and mechanized, sending out touchscreen-selected traditional German cuisine on demand—without the need for any staff at all. Somewhere, Karl Marx sheds a single tear.
7. Flip Burger, Atlanta


This Atlanta spot aims, like 4food, to modernize the burger. No easy task! And while the burgers themselves are scrumptious, the real techno-dazzler of the menu are the liquid nitrogen infused shakes that arrive smoking cold, and frozen all the way through.
8. Alinea, Chicago


So fine, some of these places are playing with the notion of how our food is getting to us, maybe not always the food itself. Unimpressed so far? How about chef Grant Achatz's Chicago dining mecca Alinea. Forget flame, you neanderthal—they do their cooking with powerful magnetic fields. The super efficient (and portable) induction burners do the heavy lifting in Achatz's stunningly sleek kitchen, where deconstructed delicacies are made with the help of another Giz-approved tech toy—the vaporizer.


9. Hajime, Bangkok


Take your touchscreen menus, chic foodie enclaves of New York. Bangkok's Hajime BBQ restaurant has robot waiters. Dressed as samurais. Maybe not the most tasteful place for, say, a wedding reception, but in terms of sheer awesomeness, this concept is hard to top. The warrior humanoids have a peaceful tenure at Hajime, working both the kitchen and the front of the house, at a cost of nearly $1,000,000 to owner Lapassarad Thanaphant. But can you really put a price on having your food prepared and delivered by four samurai bots? No. The answer to that question is no.
Illustration+Composite by Sam Spratt. Check out Sam's portfolio and become a fan of his Facebook Artist's Page.