Gizmodo es Español reports on some surprising words by Nokia big chief Stephen Elop. Asked about a potential Android phone in Nokia's near future, Elop said that "anything is possible":
El País: Do you discard launching an Android phone next year?

Elop: In the current ecosystem wars we are using Windows Phone as our weapon. But we are always thinking about what's coming next, what will be the role of HTML 5, Android... HTML5 could make the platform itself—being Android, Windows Phone or any other—irrelevant in the future, but it's still too soon [to tell]. Today we are committed and satisfied with Microsoft, but anything is possible.
It's only logical to assume that Nokia is keeping other options on the table. After all, their contract with Microsoft is non-exclusive. But it's surprising that Elop is admitting that "anything is possible" so soon after the launch of Windows Phone 8 even while he says that they are totally committed to Windows Phone right now.
Asked about Nokia's critical situation, Elop argues that the tide is turning, with Lumia 920 being a big success. In fact, he actually sees Nokia getting double-digit marketshare and then fighting with Google and Apple at the same level:
I can't give figures, but the first objective, without giving any dates, is getting a double-digit marketshare. Then, keep pushing and establish an equilibrium with the other two big ecosystems, Apple and Android.
Quite the optimist. Must be all that pickled herring. [El País via Gizmodo en Español]
Update: According to Nokia, El Pais mistranslated the interview. We weren't there, so we can't say, but it's only fair to bring you Nokia's side of the story:
Do you rule out 100% launching a smartphone based on Android in 2013?

So, the way I think about it is, in the current war on ecosystems, we are fighting with Windows Phone. That's what we're doing. Now, what we're always doing is asking, how does that evolve? What's next? What role does HTML5 play? What role does Android or other things play in the future? We're looking further into the future, but it terms of what we're bringing to market, and what we're immediately focused on, we're focused on Windows Phone.
G/O Media may get a commission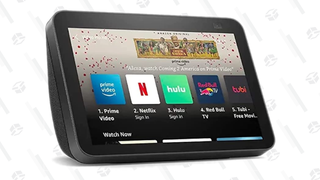 Update 2: Actually, we have the entire transcript and Nokia is omitting the key parts from it. See the full report here.