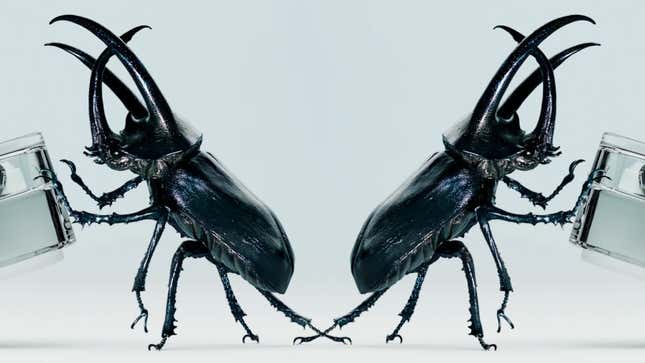 There's good reason to be excited for Nothing's next product announcement, because it's a sequel to the company's very first product, the Ear (1) wireless earbuds, which delivered impressive performance at a price point that was originally just $99 (they're now $150). The Nothing Ear (2) wireless earbuds will make their debut on March 22 during a livestream announcement on the company's website.
Nothing has been teasing a new product announcement through a series of cryptic tweets on the company's Twitter account, including an obscured shot of an engineer working at a lab table and images and video of what appears to be a three-horned rhinoceros beetle.
There was speculation that the teasers were related to leaked images of a Nothing-branded wireless speaker, which looks similar in design to Teenage Engineering's own OB-4 Bluetooth speaker, but that's not terribly surprising given TE is already known to be the designer of all the hardware Nothing has released to date, including its Phone (1).
We now have confirmation that the cryptic beetle is being used to promote the upcoming Nothing Ear (2) wireless earbuds, with full details about the second version being revealed during a 10am EST livestream on March 22, according to more tweets and an official listing on the events section of Nothing's website.
Details on what kind of upgrades the Nothing Ear (2) will feature aren't known, but leaked images of the wireless earbuds seem to suggest the microphone powering the ANC has been relocated, presumably to improve the performance of what has become one of the most marketable features of headphones today. But based on the image of the beetle released today, it looks like the size and shape of the Ear (2)'s charging case will be similar to the original model's, instead of the cylindrical tube used for the Nothing (stick) earbuds. So while Nothing isn't doing a complete overhaul of the Ear (1)'s design, it will presumably be focusing on the earbuds' internals and performance.