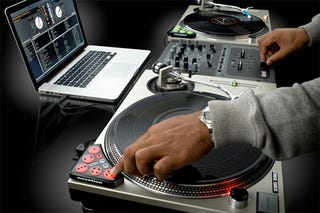 For 99 notes, wannabe DJs can get a pair of point and looping controllers designed for use with laptops, CDJs, turntables and mixers. They glow bright red/green, look like dice (kind of) and roll dem phat beatz out. Or something.
Connecting via USB, they come bundled with Serato Scratch Live software and removable putty for affixing on laptops or decks. If you happen to own a Technics 1200 turntable however, they actually mount into the adapter hole.
Out now for $99, they sound like one of the easiest and cheapest ways to experiment with DJing (if Cue-Point, Loop Rolls and Auto-Loop features is what you're after). [Novation via ChipChick]
UPDATE: Apologies, the Serato Scratch Live software isn't actually free, as I incorrectly said—it'll set you back a few hundred.