From the outside, the closed nation of North Korea remains a mystery. But in the few glimpses we get of life inside the country, there's a kind of poignancy to how humble and ordinary daily life really is for most of its people. Here are a few images and facts of North Korean life that are both odd and surprising.
Military toys
The tank labeled "Unification of the Motherland" and the glorious rocket says "The Great prosperous nation."
(via Show and Tell Pyongyang)
---
Cartoons
Militarized cartoons are very common in DPRK. There are some stories about cute animals fighting evil foxes, deers and others (for example the Ginger and Hedgehog series, available on Yandex for free), but our favourite is where the small kids are defeating the American army with the power of math and pencils.
G/O Media may get a commission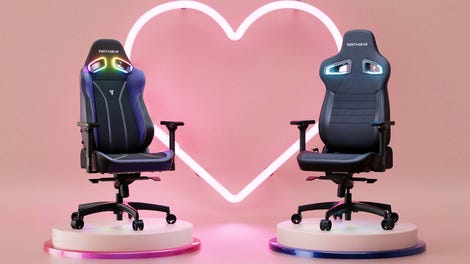 Up to $150 off
Vertagear Gaming Chairs
(via Show And Tell Pyongyang)
Korean iPad
In 2010, North Korea made their first and cheap PDA with large touchscreen, stylus and micro SD compatibility. They've attached the electronic dictionary application Samhyn (Korean to Russian, English, Chinese and German), a Korean encyclopedia, TV-access and a map of Korea. Because there is just one Korea.
(via Show and Tell Pyongyang)
---
Red Star Linux OS
Development started in 2002, based on the KDE 3.x desktop system, and has a modified Firefox named Naenera for the North Korean intranet Kwangmyong. On the install CD there is a text file with a quote from Kim Jong-Il about how important it is for DPRK to have its own local Linux-based OS. There are some extra programs on the second disc. Among others: My Comrade (notebook), Pyongyang Fortress (firewall), a Windows-emulator (works very well!), We (an office productivity software suite) Pigeon (e-mail) and games.
(via Russia Today)
---
Ryugyong Hotel
The Pyramid of Pyongyang's construction started in 1987, but stopped in 1992. In 2008, the construction was restarted by the Egyptian telecommunication company Erascom Group. They wanted to build and run the country's 3G mobile phone network. The hotel will open next summer.
(via Greg Baker/AP and Wikimedia Commons)
---
The Mighty Unicorn in North Korea
The Korean Central News Agency reported that in Pyongyang they've found the lair of one of the unicorns ridden by Korean Kingdom founder King Tongmyong more than 2000 years ago.
(via Gizmodo)
---
Kim Jong Il kidnapped two South Korean Filmmakers in 1978
Shin Sang Ok film producer director and Choi Eun Hee were kidnapped from Hong Kong (they were divorced shortly before), and forced to remake Godzilla (the Korean name was "Pulgasari") and other films. They made seven more movies between 1983 and 1986, when they finally escaped at the Vienna Film Festival.
(via Stomptokyo and Hope Lies)
---
Kim Jong Il bowled a perfect 300 in his first match. Later he achieved 11 holes-in-ones and a total score of 38 in a golf club.
---
Kim Jong Il invented hamburgers
And it's called minced beef with bread, served in North Korea's first fast-food restaurant Samtaeseong (Three Big Stars), which opened in 2009.
(via APTN/AP)
---
One out of three citizens participates in an informant network
(via David Guttenfelder/AP)
---