Ever since it launched in September, iOS 11 has been riddled with glitches, bad UI decisions and general lack of attention to detail. On Friday night, Apple's problems got a little worse with a notifications bug that sent iPhones and iPads running the software into a constant cycle of crashing and rebooting, forcing Apple to issue an immediate update.

As explained by iMore and software engineer Yoshimasa Niwa, the bug appears to cause iOS 11's local notifications service to consume massive amounts of memory, crashing "springboard, the iPhone and iPad windowing manager." User reports first compiled on Reddit confirmed that the bug occurred while using any third-party "app that has local notifications with repeating settings (this means apps that don't rely on a server in order to notify you, e.g. Headspace, Calm, or any other apps that use notifications that work on airplane mode)," after an affected device's clock hit 12:15am on December 2nd.
Apple has moved quickly to fix the phone-breaking bug, breaking usual precedent to release iOS 11.2 on Saturday (three days earlier than its regular Tuesday release schedule). While it fixes the local notifications bug, per the Verge, it also introduces a number of new features including brand new peer-to-peer payments service Apple Pay Cash and wireless fast-charging modes for iPhone X and iPhone 8 lines.
G/O Media may get a commission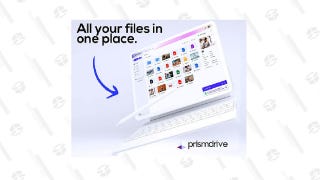 Save 97%
Prism Drive Secure Cloud Storage: Lifetime Subscription
But to install the update, users need to get past all the crashing, which might mean they'll have to go into their settings menu and turn off "Allow notifications" for each application which might be affected. A quicker fix might be to simply roll back the device's internal clock, but this could possibly mess with your phone, so it's very much not recommended.
This Y2k-esque bug is not exactly the greatest thing that could happen to Apple right now; as MacWorld noted, iOS 11.1.2 was originally intended to fix a bug that turned off iPhone X screens in the cold, which itself followed a prior 11.1.1 update intended to take care of an auto-correct error. Hey, could be worse: It's not as bad as the macOS High Sierra flaw that allowed anyone to get administrative access to virtually any user account just by clicking unlock a bunch of times.
Soon we'll find out that all these problems stem from an Apple engineer using iOS to run a bitcoin-mining botnet or something, but in the meantime people are beginning to lose patience.
Apple did not respond to Gizmodo's request for comment on this story, and we'll update if we hear back.
[iMore]