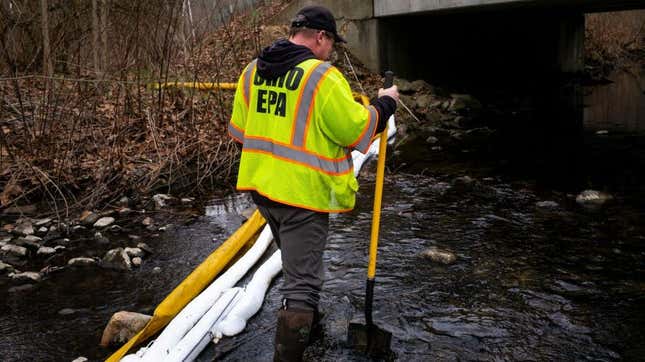 Ohio's Health Department is opening clinic today to address growing health concerns from East Palestine residents after this month's toxic train derailment.
The 150-car train derailed on February 3, spilling hazardous materials including vinyl chloride. The U.S. Environmental Protection Agency has conducted air and water monitoring since then, but residents continue to fear for their health as the cleanup continues.
Safety Clinic Opens for East Palestine Residents
The newly launched clinic will opened Tuesday at noon and is available to "any East Palestine area residents who have medical questions or concerns related to the recent train derailment." According to a statement from the state's health department, the clinic is in a local church and will include assessment rooms, along with a mobile clinic outside to accommodate more patients. "We encourage anyone who has medical concerns or questions to take advantage of this resource," Bruce Vanderhoff, the Ohio Department of Health director, said in the press release.
Since the derailment and a controlled burning of the chemicals, residents have wondered if the air is safe to breathe. In a press conference last week, Mary Mertz, the director of Ohio's Department of Natural Resources, confirmed that 3,500 dead fish were found in local waterways in the immediate aftermath.
Residents are also worried that their drinking water could be contaminated. Ohio Governor Mike DeWine tweeted last week that the municipal water is safe to drink, but new water concerns have come to light. The water testing was funded by Norfolk Southern, the operator of the derailed train, and the lab report from the railroad-funded testing shows that the sampling did not follow the Environmental Protection Agency standards, HuffPost reported. The Columbiana County General Health District conducted its own independent sampling as well, and those results will be available on the district's website.
Other agencies are stepping up to monitor the ongoing cleanup and recovery. The Federal Emergency Management Agency deployed a senior response official to East Palestine this weekend. This is "along with a Regional Incident Management Assistance Team (IMAT) to support ongoing operations" and other recovery needs, Governor Mike DeWine and FEMA Regional Administrator Thomas C. Sivak said in a joint statement.
Buttigieg Calls for Stricter Rail Safety Regulations
U.S. Secretary of Transportation Pete Buttigieg penned a letter to Norfolk Southern's CEO Alan Shaw, calling out the rail industry for opposing regulations. He urged the company to support the community and to "be part of needed safety improvements across the industry." Buttigieg also emphasized the need for better conditions for workers throughout the railroad industry.
In a press release, the U.S. Department of Transportation said it wants rail operators to let emergency response teams know when a train is "transporting hazardous gas tank cars" through their state in advance. The DOT has also asked Norfolk Southern, along with other rail operators, to join the Federal Railroad Administration's Confidential Close Call Reporting System so that railroads and employees can report dangerous conditions.
"Profit and expediency must never outweigh the safety of the American people," Buttigieg said in the DOT release. "We at USDOT are doing everything in our power to improve rail safety, and we insist that the rail industry do the same—while inviting Congress to work with us to raise the bar."
EPA Tells Norfolk Southern to Pay Up Over Derailment
The EPA has demanded that Norfolk Southern pay for the damages caused by the derailment. In a statement released today, the agency said that it expects the rail operator to reimburse costs associated with cleaning services offered to residents and businesses.
"The Norfolk Southern train derailment has upended the lives of East Palestine families, and EPA's order will ensure the company is held accountable for jeopardizing the health and safety of this community," EPA Administrator Michael S. Regan said in the statement. "Let me be clear: Norfolk Southern will pay for cleaning up the mess they created and for the trauma they've inflicted on this community."
The agency also outlined that Norfolk Southern must "attend and participate in public meetings at EPA's request and post information online." This request may have been included because representatives from Norfolk Southern did not attend a town hall meeting last week, angering East Palestine residents.
The agency had already warned Norfolk Southern that it could be held accountable in a letter earlier this month. "Based on information presently available to EPA, EPA has determined that Norfolk Southern Railway Company (Norfolk Southern or "you") may be responsible under CERCLA for cleanup of the Site or costs EPA has incurred in cleaning up the Site," the agency wrote in a letter dated February 10.
If Norfolk Southern does not cooperate with the EPA, the agency will "seek to compel Norfolk Southern to pay triple the cost."