Joseph Spah survived the disastrous crash of the Hindenburg on May 6, 1937. How did he do it? Spah was a comedic acrobat, who was forced to put some of his tumbling skills to good use to save his life. He broke a window and jumped out as the burning airship fell to the ground. He told the newspapers his story, where it spread far and wide.
From the May 8, 1937 edition of the Pittsburgh Press:
"I managed to cling to a window support. Somewhere back in the ship I heard a loud cry for help. Then there was another explosion. This was all a matter of seconds. I knocked out one of the windows with my fist. I climbed through.

By this time the fire had reached the lounge. The heat was so intense I hardly could hold outside the ship.

We were 200 feet up in the air. If I dropped I knew I would be killed. I held on by one hand and when the ship started falling I turned loose. I landed on my feet, bounced into the air and fell on my face.

There was another explosion and another. The force of the concussions threw me away from the ship which was falling directly on me.

I crawled, managed to get to my feet and then stumbled blindly across the field. I looked back once — the ship had fallen where I had dropped."
Factually is Gizmodo's new blog of fun facts, interesting photos, and weird trivia. Join us on Twitter and Facebook.
---
Image via Associated Press: The "Hindenburg" explodes as it approaches the mooring mast at Lakehurst Naval Air Station in Lakehurst, N.J., on May 6, 1937.
G/O Media may get a commission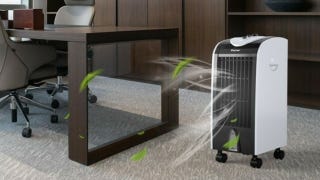 Save $10
Evaporative Portable Air Conditioner Cooler with Filter Knob