One year ago, the OnePlus One became the best off-contract smartphone you could buy. An unheard of Chinese company managed to deliver a high-quality Android handset for a crazy-low $300 price. Now, it looks like that awesomeness wasn't a fluke. Behold: the OnePlus 2.
Left: old and busted. Right: new hotness
Starting at $330, the new OnePlus 2 is only a hair more expensive than the original, and yet it's improved in so many ways I barely know where to begin. Hell, it might be faster to tell you what's missing: it doesn't have a gorgeous 2K screen or wireless charging like the Galaxy S6, and it doesn't have a removable SD card, battery, or fancy manual camera controls like the LG G4.
Oh, and there's no stylus. You weren't expecting a stylus, were you?

Got all that? Then it's time to talk about just how beastly this phone actually is. 8-core Snapdragon 810 processor? Check. LTE? Check. Two nano-SIMs for hopping carriers? You bet. USB Type-C so you're ready for the future of charging? Definitely. A fingerprint reader? Yep! Plus a 5.5-inch 1080p display, a 13-megapixel OmniVision camera with optical image stabilization and laser focusing, and up to 64GB of storage and 4GB of RAM.
G/O Media may get a commission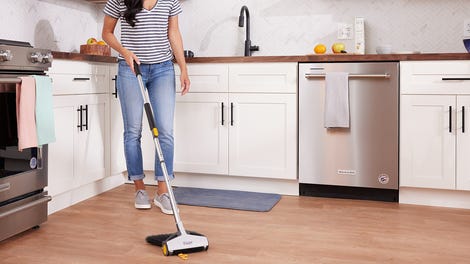 BOGO 50% Off
Flippr - BOGO 50% Off
Yet the most impressive parts of the OnePlus One have little to do with specs. They're about how this phone feels. (It feels excellent.)

Chassis
The moment you touch this phone, you won't believe it costs just $330. Why? Because in terms of materials and build quality, it's only a stone's throw away from the best you can buy: Samsung, LG and HTC devices that cost hundreds more.
If you turned up your nose at last year's OnePlus One because it was made of plastic, you'll do a double-take when a OnePlus 2 shows up. The only plastic you'll find on this sucker is the flexible kind you'll find when you pry up the removable rear cover. No more shitty plastic buttons, either: it's all precise, tactile metal for your power button, volume rocker, and (my personal favorite) three-way mute switch. More on that later.
Slide to see the difference. Left-hand grip puts power button under index finger, and mute switch under thumb, but volume rocker is a stretch.
The metal does make the phone nearly half an ounce heavier (at 6.17 ounces) and it's nearly half a millimeter thicker (at 9.85mm) but I didn't find myself minding one bit. It's also a millimeter shorter in both directions, and I actually think it may improve the ergonomics. The One was a bit wide for my tastes; the 2 fits easier into my hand.
I do kind of miss the metal lip that gave the OnePlus One a distinct look even from the front, but the 2 still keeps the same spirit with a chamfered metal edge beneath its Gorilla Glass. Depending on the size of your hand, it might still add a little bit of grip.

Some OnePlus One and OnePlus 2 sandwiches. Mmm, sandwiches.
But glass and metal is only half the story when it comes to tactile delight. The rest comes in the form of the OnePlus's optional $27 rear covers, which use actual wood (bamboo, rosewood, black apricot) or Kevlar for a really awesome look and feel. Even stock, the OnePlus 2's "sandstone black" rear cover feels pretty good (and definitely far grippier and grittier than the one on the original phone) but real Kevlar or bamboo is where it's at.
I do hope the final units won't make it as hard to pry off the rear cover, though: I chipped off a bit of fingernail trying to do so today.
I've gotta say the Kevlar's my favorite so far, but I could actually see myself buying more than one and swapping 'em out after a while. It's a level of personalization we've never really seen in a smartphone before: even with the Moto X, which let you color-coordinate your phone when you bought it direct from the factory, you'd be forever stuck with your choices.
Screen
The screen is pretty much always the most important part of a smartphone. I don't need to tell you this, because you're probably reading this article by swiping on a smartphone screen right now. And the original OnePlus One's screen was, how-do-we-say, not particularly wonderful. I vividly remember taking pictures side by side with the Xiaomi Mi Note and the OnePlus One a few months back—two phones with the exact same Sony camera sensor—and wondering why the pictures seemed so much worse on the OnePlus. It turned out that it was actually just the screen, which looked washed out.
Well, the 1080p LCD screen on the OnePlus 2 is bright and beautiful by comparison. The company claims it reaches 600 nits of brightness, more than the iPhone 6 Plus. Personally, I don't think it's anywhere near as gorgeous as the 2K OLED screens you'll find on a Samsung Galaxy S6 or as glassy and smooth as some of Apple's displays—I can definitely see rows of pixels if I look close—but for a $330 phone it's outrageously good.
Camera
And speaking of the camera, it's way the heck better as well. While I definitely didn't get to take enough shots to tell how it stacks up against an iPhone 6 Plus, Galaxy S6, LG G4 or Lumia 1020—the smartphone camera elite—the OnePlus 2's new 13-megapixel Omnivision sensor is perhaps the clearest evidence yet that megapixels mean nothing. Same number of megapixels as the previous phone, but WAY better images right out of the box.
Here are a couple of 100% crops from the OnePlus One and OnePlus 2 in good light. Just look how much less noise and how much more detail you see in the image on the right.
And impressively, the image from the OnePlus 2 was half the filesize. Here are the originals:
Have to say the OnePlus 2 pic is lacking a bit of contrast, though. The darker regions look super dull and grey.
Here are a couple pics showing off the improved dynamic range, likely thanks to the larger pixels in the camera sensor:
Just look how much more you can see in the bright and dark regions of the image. (You might have to click the magnifying glass and download the picture to zoom in.)
Sadly, the camera doesn't have any manual controls or RAW image support, though OnePlus says both are coming in a future update.
What's The Catch?
So if this phone is so great, why don't you go ahead and order it on August 11th, the day the phone comes out? Particularly since—like the last OnePlus phone—it's invite only, the company has limited stock, and there's no guarantee how quickly they'll make more?
Well, there are the usual review caveats. We've barely tested this device. We haven't even tried to make a phone call with it, let alone use apps for longer than a few minutes. (They seemed to run smoothly, but isn't that true of all new phones these days?) We haven't tried to take a lot of pictures in challenging environments, and we have no idea if the (slightly larger 3300mAh battery) will still put up a fight given the new processor and bright new screen. The new fingerprint reader felt awesome and quick and accepted my fingerprint from any angle, but who can say whether it'll be reliable in a pinch without more testing?
Also: though it sure looks like it, this phone doesn't actually use stock Android 5.1 Lollipop, and isn't guaranteed to get new updates quickly. Instead, it uses OxygenOS, a customized version that allows for pretty cool tweaks like drawing a symbol on the screen to turn on the flashlight even when the screen is off, or connecting to a new wifi network right from the notification tray, and that cool three-position mute switch that can let you mute everything, nothing, or just allow notifications from your primary contacts to come through.
But without more testing, it's hard to say whether the OS is stable and whether it's really, truly better than the pure Google version.
And the number one: if you're on Verizon or Sprint, you can't use this phone at all. It's got LTE that's compatible with AT&T and T-Mobile, but no CDMA for the other big networks.
It's got an awesome futureproof new USB Type-C port for charging, but that means none of your micro-USB cables will work. You'll need new ones ($5 each for OnePlus's cool new reversible cable, which is admittedly a pretty good deal.)
Also, if you want to pay only $330 for this phone, you'll have to wait even longer: as of August 11th, only the $390 model with 64GB of storage and 4GB of RAM will be on sale.
If I'm being a good, unbiased journalist, I'd say wait for the reviews. But personally, I have to wonder if it's time to leave Verizon and give it a go myself. After the OnePlus One, the Nexus 5 and the Sony Z3 Compact, I'm tired of missing out on great unlocked Android phones.