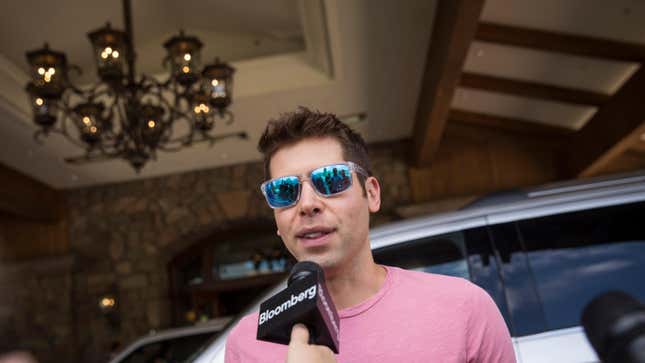 OpenAI's founder Sam Altman has a finger in more than one tech pie, so to speak. The controversial former president of startup accelerator, Y Combinator, and current ChatGPT kingpin isn't only interested in getting his company's artificial intelligence-powered chatbot into classrooms. He's also interested in living forever—or at least longer than current human lifespan researchers suggest is possible.

I Gave Sam Altman a Copy of My Eyeballs | Future Tech
Altman has banked big bucks on a biotech startup, Retro Biosciences, as first reported Wednesday by MIT Technology Review. The tech entrepreneur reportedly secretly invested $180 million in the company, which touts the lofty goal of extending "the healthy human lifespan by ten years." According to Retro's strategy statement, it aims to do so by finding and demonstrating anti-aging mechanisms in non-human mammals and then translate those scientific strategies to humans.
Retro publicly launched in April 2022, under the leadership of CEO Joe Betts-LaCroix, another Y Combinator alum and health startup entrepreneur. At launch, the company announced it had raised $180 million in its initial funding round—all of which apparently came in the form of a 2021 confidential check from Altman, per Tech Review. At first, Retro opted to conceal Altman's involvement. Yet now, the company has gone public with its funding source—after initial concerns Altman's name could "prove a distraction," wrote the outlet.

Gizmodo reached out to both Altman and Retro to confirm the details of the MIT Tech Review report, however neither the man nor the company immediately responded.
Though the OpenAI founder is presumably very busy managing the viral ascent of his ChatGPT and the subsequent AI arms race it inspired—he's certainly found the time to spend money on the things that matter to him, like beating back the cold abyss of inevitable(?) oblivion, and other elusive, breakthrough technologies.
In addition to the big investment in Retro in 2021, Altman dumped an even greater amount of money ($375 million) into Helion Energy, a moonshot nuclear fusion power startup, that same year. Helion aspires to create a "limitless source of clean energy," through the thus far, unresolved question mark tech of crashing atoms together. Note: though physicists and the Department of Energy announced a big break through in fusion energy at the end of 2022, we are still very, very far from a future powered by fusion reactors—no matter how many times companies may claim it is '10 years away.'
And like fusion, extending our lifespans has evaded researchers for a long time. The question of whether or not there is a hard limit on the human lifespan has been the subject of science (and mythology) since we've been doing science (and making myths). However, some recent—albeit very divisive—research has suggested that people could potentially live much longer than we currently do, with the aid of specific interventions. Altman, at least, is all in.
In spending the combined $555 million on a scientific-bid for a fountain of youth and a distant possible renewable energy source, Altman reportedly emptied out his savings. "It's a lot. I basically just took all my liquid net worth and put it into these two companies," he told Tech Review. Yet in is view, the investment is well worth it. For one, he is "super confident [fusion] is going to work," Altman said to TR. For another, he would like to one day be able to use the fruits of his financial support. "I hope to use a Retro therapy someday," he told Tech Review.
Altman's apparent desire to live longer doesn't come as much of a surprise. The founder has long been chummy with Peter Thiel, notorious and ardent supporter of abolishing death. And immortality is a popular niche interest among Silicon Valley-types who cannot imagine the world without themselves in it.
Altman told Tech Review that he became fascinated by "young blood" research, in which old mice have their fluids swapped out with fresher juice, about eight years ago (again: Remember Peter Thiel?). It was through this burgeoning interest, and a conversation about a 2020 plasma mouse study, that he reportedly first expressed a desire to give Betts-LaCroix money to pursue anti-aging work. From those initial chats, a business partnership blossomed.
Yet, though Altman may be eager to live longer, just because the money is there doesn't mean the science is. "A hundred million is a number, not a breakthrough," UC Berkeley scientist Irina Conboy, who published the mouse plasma study, told Tech Review. "I have never heard the name Sam Altman," she added.