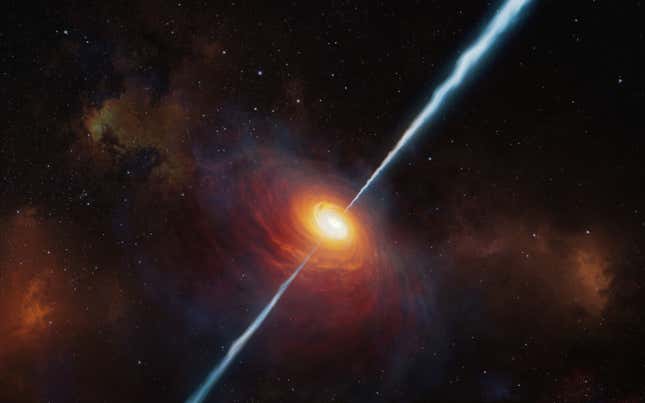 A team of astrophysicists say quasars, some of the most brilliant phenomena in the universe, are likely caused by collisions between galaxies.
First Full-Color Images From Webb Space Telescope
Quasars are a type of active galactic nuclei; they lurk at the centers of galaxies and are very bright, often launching material outward in superheated jets of material. But for decades, astrophysicists have not known what gives rise to quasars.
Now, a group of scientists propose that quasars emerge from the gravitational forces at play when galaxies collide. Their research is published in the Monthly Notices of the Royal Astronomical Society.
"Quasars are one of the most extreme phenomena in the universe," said study co-author Clive Tadhunter, a physicist at the University of Sheffield, in a university release. "What we see is likely to represent the future of our own Milky Way galaxy when it collides with the Andromeda galaxy in about five billion years."
Quasars were discovered in the 1950s; since then, scientists have found that they are among the most energetic objects in the universe. Quasars often outshine the stars in their galaxy; their luminosity is derived from the black holes at their centers accreting and consuming nearby material, releasing energy.
As the researchers found, the same process seems to be what creates quasars in the first place. They compared data from 48 galaxies with quasars at their core to over 100 galaxies without quasars. The observations came from the Isaac Newton Telescope in La Palma, one of the Canary Islands.
Quasars are also observed by the Event Horizon Telescope and the Webb Space Telescope; a recent Webb image revealed an ancient quasar that was encircled by at least three other galaxies in a "galactic knot." In other words, it appears that the quasar's galaxy had sucked several others toward it.
That lines up with the recent team's work, which found that around 65% of the observed quasar-hosting galaxies showed signs of galaxy mergers or encounters in the past. Only around 22% of observed galaxies lacking quasars showed signs of similar interactions.
Gravity causes massive structures to interact with each other, even in the vastness of space. Whether the collision between the Milky Way and Andromeda will yield a quasar, no human can say for sure. But further observations of these luminous objects could lend a hand to computer models testing galaxy evolution and interaction, so we might learn more about where the cosmos' most spectacular objects came from.

More: Astronomers May Have Spotted the Remnants of One of the Earliest Stars