This week had no dearth of great apps to download, which are the best kind of weeks. We got a new one from Facebook of arguable usefulness (as is tradition), job hunting gets app-ified, and the live streaming craze comes to Windows Phone. There's lots to get through. Let's get to it.
---
Multiplatform
Need to get data from digital point A to point B? It's not always easy because of file size. Infinit makes counting those megabytes and gigabytes a thing of the past. For both Android and iOS, Infinit makes sharing large files with friends or whoever way easier. In addition to these new mobile apps, Infinit still has its desktop applications, which of course communicate with one another. Whether sending huge movie files to your smartphone for that upcoming trip or an entire photo album to your tech-savvy granny, Infinit is here to help. [Free on Android/iOS]
G/O Media may get a commission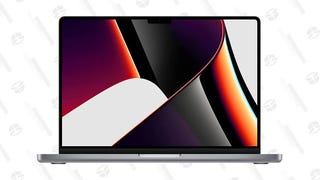 Save $300
2021 14" 1TB MacBook Pro
Flyp is an interesting app that actually gives you more than just the standard phone number stuck on your SIM card. Need a phone number for work, and family, and friends? Then Flyp might be a great idea. I'm personally terrible at multitasking so this sounds like my smartphone nightmare, but no doubt this could be a lifesaver for many people. [Free on Android/iOS]
Facebook's app game has been known for more misses than hits lately, but Riff is something interesting. Maybe the best way to think of Riff is a messaging service done completely through video. You can make standalone videos or create a chain of videos that you can swipe left and right to look at. If you want to reply, you're doing it via video. All video all the time. The design is minimal and put together well, but in spots it feels like "minimal" actually means "lacking" in when compared to services like Snapchat. Maybe that's what updates are for. [Free for Android/iOS]
---
Android
Apply for jobs is the worst thing ever, ok maybe second to doing taxes (sorry for the reminder). But Jobr at least tries to make the former not the absolute worst thing you've ever had to deal with. Type in your skills and your location and Jobr will do all the hunting for you through its database fill with 1 million jobs. That's kind of a small pool when you stretch it over lots of different jobs, so I wouldn't ditch your network on LinkedIn quite yet. Consider this just another tool against the fight to not be broke as hell. [Free]
Who has the time to scroll through all our social networks to see what our friends and followers are talking about? It would make more sense if an app did all that searching for you. Oh, wait. That's what Nuzzell is for. Sign in with Facebook or Twitter and Nuzzell transforms into a one-stop shop to know what all your internet companions are talking about. Of course, then this is another stream you have to read through. Welcome to the Russian Doll of app development. [Free]
---
iOS
Actors and actresses in your favorite TV shows are some sharp-dressed individuals. I mean, that's kind of part of the job description. But if you ever see some digs that catch your eye—whether Don Draper being dapper or Zooey Deschanel being annoyingly quirky—Spylight helps you figure out what digs are what so you can also look sharp (and probably spend more money on clothes than you should.) [Free]
Ok, so. This app is a little weird and made really for the social media obsessed—and I mean obsessed. Juice calls itself a "content assistant" that basically looks for great stories that you can share. It literally studies your followers to see what stories they would be interested in. This seems more geared toward professionals rather than personal use—unless you're in this social media game to just be "the popular one." [Free]
Windows Phone
So this was actually an April Fools Day joke, exclusively for Lumia smartphones, but I liked the idea so much I figured what the hell. Basically, all it is an homage to a Microsoft OS of old that gets back to the basics. It's just a fun app with little use, but some nostalgia never hurt anyone. [Free]
So everyone knows Periscope at this point. If not, please get with the culture revolution of online streaming that is sweeping the web. Twitter's backed Periscope is the pack leader, quickly beating out the former front runner, Meerkat. The idea is you can now stream from your phone and post it online for anyone to watch immediately. It's immediacy cranked to 11, but until now Windows Phone has been left out the loop. But with Telescope, a third-party client for Periscope, you can join your smartphone brethren in live streaming bliss. Only limitation is you can only watch and not broadcast, but the Telescope team says updates are incoming. Just watch out for those data caps. [Free]
---
Contact the author at darren.orf@gizmodo.com.