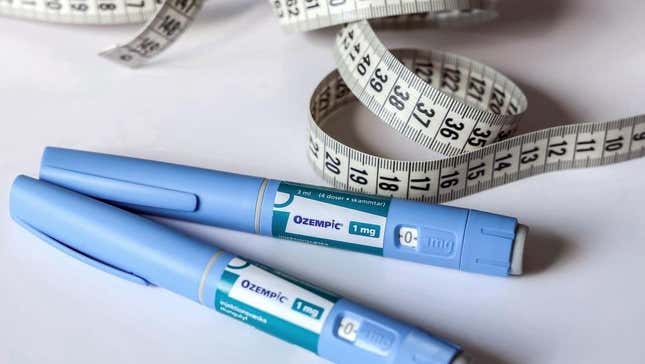 UK regulators are investigating the Ozempic and Saxenda weight loss drugs over reports that patients experienced suicidal and self-harming thoughts while taking the medications. The drugs skyrocketed in popularity in the U.S. as doctors began prescribing them to people who struggled with obesity, but new reports are coming to light that the so-called miracle drugs may not be such a miracle after all.
Meet Microsoft's New Surface Laptops
The Food and Drug Administration (FDA) has not approved Ozempic as a weight loss drug, but some physicians are still prescribing it for that use in the U.S. and abroad. The Medicines and Healthcare Products Regulatory Agency (MHRA) told Sky News that "it is commonly used off-label for that purpose" in the UK.
Ozempic is approved to treat Type-2 diabetes and contains the active ingredient semaglutide which is also found in Wegovy, a drug that is FDA-approved to treat obesity and promote weight loss. The UK's review into allegations that Ozempic is causing depression in patients also includes Saxenda, an approved weight-loss treatment containing the active ingredient liraglutide.
Although Ozempic does not list depression or thoughts of suicide as a possible side effect, precautions for Wegovy state that "suicidal behavior and ideation have been reported in clinical trials with other weight management products."
It is unclear if the patients who reported having depressive or suicidal thoughts had pre-existing conditions prior to taking Ozempic or Saxenda but the EU is conducting a separate investigation of the drugs after 150 people were reported to cause self-injury or have suicidal thoughts.
All three drugs are sold by Novo Nordisk, a Danish drugmaker, and are known as GLP-1 receptor agonists, which mimic hormones produced in the patient's gut to suppress their appetite and help them feel full longer.
Nova Nordisk said in an emailed statement to Gizmodo that it hasn't found any safety data that "demonstrated a causal association between semaglutide or liraglutide and suicidal and self-harming thoughts." The company said it received a request from the MHRA on Monday informing the company that it would be reviewing whether the reported suicidal and self-harming side effects are related to the drugs. Novo Nordisk said: "The review is ongoing and a response will be provided within the requested timelines."
The MHRA did not immediately respond to Gizmodo's request for comment.
The investigation comes as some doctors warn Ozempic and Wegovy may cause stomach paralysis after some cases were reported by patients who took the medications. Stomach paralysis can lead to cyclic vomiting syndrome which causes the person to throw up several times each day. As the number of people taking weight loss drugs continues to soar, doctors say more patients are reporting issues, but extreme cases are still considered to be rare.
"Patient safety is our top priority," the MHRA said in a statement to CNBC. "We will carefully consider all available evidence and communicate any further advice to patients and healthcare professionals as appropriate."