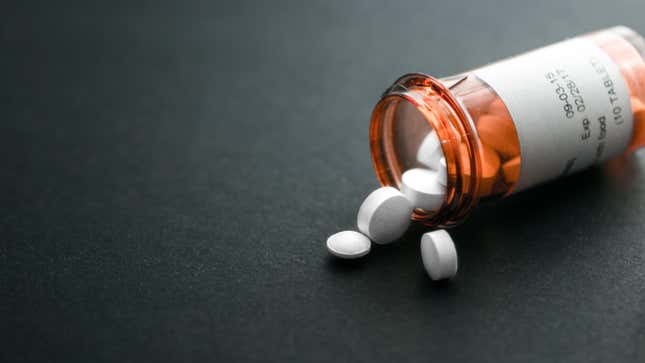 An effective pill for obesity treatment looks to be within reach. This week, Novo Nordisk announced the results of a Phase III clinical trial testing out an oral version of its in-demand drug semaglutide. The once-daily pill not only substantially outperformed a placebo but did as well as the injectable form of the drug—an already-approved medicine called Wegovy—with participants losing 15% of their body weight on average.
Mental Health Apps Are a Privacy Nightmare
Semaglutide belongs to a class of drugs called GLP-1 agonists. These drugs provide a synthetic version of GLP-1 (glucagon-like peptide 1), a hormone that plays an important role in regulating our metabolism and hunger. For over a decade, GLP-1 drugs have been approved and used to help lower blood sugar levels in people with type 2 diabetes. But in recent years, it's become apparent that these drugs can also help people with and without diabetes lose weight, with far greater effectiveness than past options.
In June 2021, the Food and Drug Administration approved Novo Nordisk's Wegovy, a version of injectable semaglutide with a higher maximum dose than its existing injectable semaglutide medication for diabetes, called Ozempic. Even at the time, though, the company had already developed an oral semaglutide drug approved for diabetes treatment, and it wasn't long before it started human tests of an oral version for obesity, called the OASIS trials. On Monday, the company released the topline results of the phase IIIa OASIS-1 trial.
Much like Wegovy and Ozempic, the pill used in the OASIS trials has a higher maximum dose of semaglutide than the one used to treat diabetes, sold under the brand name Rybelsus. Rybelsus is taken at a dosage as high as 14 milligrams per pill, while the dosages tested out in these trials are 25 or 50 milligrams. Like Rybelsus, participants in these trials take the pill once a day, and the dosage is gradually increased over the course of several months to help reduce side effects.
The OASIS-1 trial involved more than 650 patients with obesity—a body mass index over 30—or who had a body mass index over 27 and other possibly weight-related health problems, like sleep apnea. Those volunteers were randomized into a placebo or treatment group and were tracked for 68 weeks. Each group was also given lifestyle counseling.
According to the company, people in the 50-milligram oral semaglutide group lost 15.1% of their baseline weight on average by the study's end, compared to the average 2.4% weight loss seen in the placebo group. Nearly 90% of the treatment group also lost at least 5% body weight, compared to a quarter of those in the placebo group. The average weight loss was even higher in those who adhered to the treatment the entire time, at 17.4%.
The findings have yet to be vetted by outside scientists. But, if they're valid, they're almost perfectly in line with the weight loss seen in the clinical trials of Wegovy. The adverse effects seen with oral semaglutide are also similar to those seen with other GLP-1 drugs, mainly being gastrointestinal. According to the company, the vast majority of adverse effects were mild to moderate and decreased over time.
To date, Wegovy is the only drug of its kind approved for obesity, though its popularity has also led to a rise in the off-label prescribing of Ozempic (both drugs have experienced shortages as a result). Novo Nordisk plans to file for regulatory approval of the pill version in the U.S. and Europe sometime in 2023. But the company likely won't be alone in the obesity treatment world for long. Eli Lilly's tirzepatide—which combines GLP-1 with another hunger-related hormone—has shown even greater weight loss success and is expected to be approved by the FDA later this year. Several other companies are developing similar drugs as well.