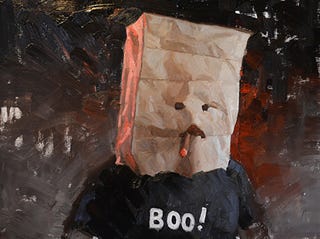 Frank Ordaz worked with George Lucas in The Return of the Jedi—among other films—making some of its awesome background matte paintings. When he left the film industry he combined his freelance work with some personal projects involving oil painting. This is a selection I made of his latest work:
Here are some pictures of Frank working on matte paintings and models for Star Wars:
Frank Ordaz did background matte paintings for specialized movie production effects and worked on films like "ET", "The Wrath of Khan", "Return of the Jedi" and "Indiana Jones and the Temple of Doom". Leaving movie work, and self-employed, his award-winning paintings and illustrations have been used in a line of Christian books, professional sports posters, specialty greeting cards and even a line of jigsaw puzzles.
You can follow Frank's work on Facebook, his personal website and on his blog.
---
This is part of a series in which we are featuring interesting paintings. If you are a painter with high quality work, please drop me a line here.
---