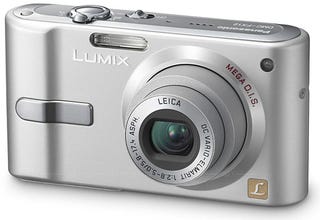 Panasonic spruced up the entry level of its FX line today, revealing the value-priced DMC FX-10 ($199) and FX-12 ($229, pictured above) that will ship in a couple of weeks.
Even though they're comparitively cheap, these low-end models still offer a Leica lens with the 35mm equivalent of 35-105mm. And after all, if you have some good glass and a good imager on a digital camera, to get great pictures all you have to add is talent. Well, and good lighting, and good subjects, and.... I guess it's not that simple.
Anyway, the FX10 packs a 6-megapixel imager, while the FX12 uses 7.2 megapixels for its light-gathering festivities. These cameras are getting so inexpensive, and then when you toss those Leica lenses into the mix you end up with a great value.
Panasonic Lumix FX10 and FX12 [Digital Photography Review]