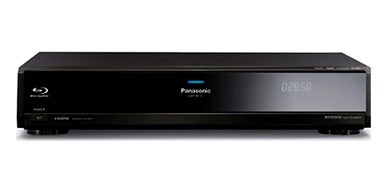 This backwards compatible (DVD/CD) Blu-ray player from Panasonic is going to run you $1,299.95. That's 260% of the price of a Toshiba HD DVD player. Admittedly, Toshiba is losing $200 on each player sold, but even at $700, that's a lot cheaper. Christian Slater's going to have to do a lot of voiceovers to convince people to shell out for this.
Here are some key features (according to them):

Extraordinary Image — Panasonic's proprietary P4HD technology performs IP conversion at the pixel level for the finest details. In addition the DMP-BD10 incorporates a 296MHz, 14bit Video D/A Converter that provides high quality 4x oversampling for 1080i/720p output. Noise shaping video processing shifts the noise component to an unused band to further boost the signal-to-noise ratio. Because of technologies like these, the DMP-BD10 can theoretically reproduce up to nearly 4400 billion colors.
High Capacity - Blu-ray Discs provide five times more disc capacity than a standard DVD (25 GB* of storage on a single disc and up to 50 GB* on a double layer disc) providing more storage for high definition movies, TV shows, music concerts and other programming, plus additional space for other added-value content.
Backward Capability — Plays a variety of optical discs including DVDs and CDs and up-converts video playback from DVDs to 1080P, by using HDMI.
To go along with this player, Panasonic's selling a Blu-ray Disc Receiver for $999.95 and a home theatre speaker system for $2999.95. Yipee!
PANASONIC ANNOUNCES DEBUT OF BLU-RAY DISC HIGH DEFINITION HOME THEATER SOLUTION [Panasonic via TechEBlog]