The phrase, "holy shit, this is a fantastic television," is bandied about far too often. In the case of the Panasonic 55-inch VT50 Plasma, it's spot on.
What Is It?
Panasonic's new flagship HD 3D plasma model. Probably the best looking TV you'll see this year.
Who's it For?
Anybody with a functioning set of eyeballs and an appreciation of sports and films.
G/O Media may get a commission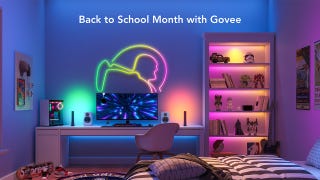 Back to School
Back to School Month with Govee Sale
Design
Minimal. The front panel is a single glass pane with an inch-wide border. Buttons for channels and volume are clunky, but you'll never use them—it comes with separate remotes for TV watching and web browsing.
Using It
Installation requires 12 screws and an assistant to get the 66-pound set onto its base. The rest of the setup is automatic.
The Best Part
Unrivaled picture quality. Incredibly deep blacks stand up in bright rooms. The 96mHz refresh rate handles 1080P with minimal fast-motion blur and enough clarity to count the whiskers on Baumgarner's face in the post-game interview.
Tragic Flaw
If anybody still gave a shit about 3D, they'd likely be pissed to shell out an extra $65 a pair for the active-shutter glasses. None are included with the set. And the 3D itself isn't all that impressive—good depth and a wide viewable angle—but a noticeable amount of cross-talk.
This Is Weird...
It displays a three-second banner ad every time you turn it on. You can disable this, um, feature.
Test Notes
The glossy screen reflects a fair amount of light. It's not as bad as the LG.
Screen brightness is excellent (especially on the THX Bright Room setting).
The THX video presets are handy for quickly swapping between sports, cinema, and games.
Color reproduction is spot-on with bright, vivid, and extremely accurate hues.
Should You Buy It?
I am very seriously considering buying this set myself, so yes, you probably should do so as well.
• Screen Size: 55 or 65 inches
• Display Type: Plasma 1080P
• Refresh Rate: 600Hz
• 3D: Active
• Connectivity: 4 HDMI, 3 USB, PC input, built-in WiFi
• Services: Facebook, Twitter, MLB.tv, Pandora, Hulu Plus, Netflix
• Weight: 66 pounds
• Price: $1,945 at Amazon
• Gizrank: 4.5 Stars