Being locked into one software ecosystem is the cruel fate that awaits anyone who loves technology. On our desktops and smartphones, we build prisons with companies who want our complete fealty to their apps and services.
Luckily, tools exist to help liberate us from these self-imposed bonds and Parallels, a company that's been in the software business for 14 years, may have made it as easy and efficient as ever.
Launching today, Parallels Desktop 10 for Mac brings the upcoming Mac OS, Yosemite, into its popular Parallels desktop visualization platform. The software aims to seamlessly blend OS X and Windows on Mac machines, not just through visual aesthetics alone, but also integrating Apple services, Mac usability and data syncing into Windows, all without needing to reboot into a partition.
Yosemite pretty much guides this edition's approach to design and user-friendliness. Parallels takes some cues from Apple, primarily its flat icons, and applies the same style to all Windows applications. Parallels 10 even pays attention to the granular details. For instance, Mac's mail client displays the number of unread messages in the dock, so the Parallels team gave Outlook the same ability. Apps, such as Office or Outlook, can now be opened via Launchpad and Windows-based notifications also integrate with Yosemite's reconfigured Notification Center and relocated Spotlight. Parallels also mimics the frosted glass effect for the Windows 8 start menu much like Launchpad for Yosemite.
Apart from cosmetics, Parallels 10 seems like much less of a headache to use. This update provides easier ways to install virtual machines (VM) on your Mac, whether its Windows, Linux, Ubuntu, or others. A new configuration wizard pops up asking what you'll be doing primarily on this VM. The four options include productivity, games only, design, or software development. Parallels then automatically configures to optimal settings for that specific use case. This could help banish the frustration of experiencing sluggish performance while editing video or sniping an enemy in an FPS because of a CPU or RAM deficiency.
G/O Media may get a commission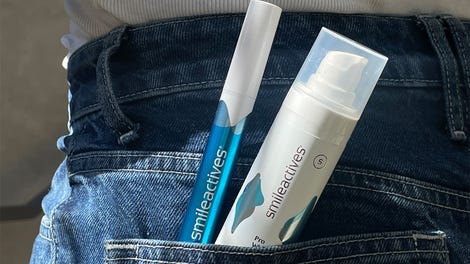 58% off
Whitening Powerhouse Pen & Gel Duo
After focusing on ease-of-use and UX design upgrades, Parallels 10 also trims some operational fat. When the team came by the office to showcase their new software, they mentioned that the program is 48 percent faster at opening Microsoft docs, has a 30 percent battery performance boost, and takes up 10 percent less memory. The program also manages storage more efficiently by automatically freeing up space held hostage due to OS incompatibility instead of making it a manual chore like in its previous editions.
Parallels Desktop 10 is available for download today for all current Parallels 8 or 9 owners starting at $50. If you're new to Parallels, you'll have to wait until August 26th—and also pay $80—to get your hands on the team's latest and greatest. Parallels also offers student discounts for $40.
The usefulness, or even necessity, of an application like Parallels really depends on what you'll need it for, but Parallels contends that the program works best for people who just want their apps, regardless of operating systems, hardware differences, or other walled gardens. Parallels Desktop 10 aims to accomplish that goal with a unified, easy-to-use design, and just from our short demo, it looks like its heading in the right direction.