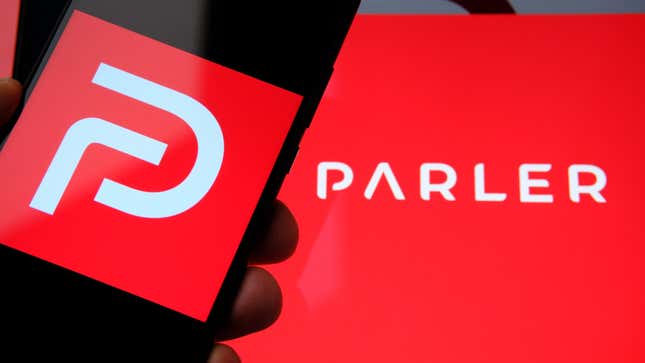 Parler is apparently getting another lease on life, but first it has to die. The "free speech alternative" social network, popular among conservatives and the likes of Alex Jones, officially has a new owner. And that new owner has put the site on hiatus for an unspecified length of time.

Google's Antitrust Case Is the Best Thing That Ever Happened to AI
Parlement Technologies Inc. has entered an agreement to sell off its social platform to Starboard, as first reported by the Wall Street Journal. Starboard is a digital media company formerly known as Olympic Media run by founder and CEO Ryan Coyne. The company already owns conservative news sites like American Wire News and BizPac Review, according to WSJ.
"Starboard (Formerly, Olympic Media) announced today that it has concluded the acquisition of Parler, the world's pioneering uncancelable free speech platform," the company wrote in a press statement that took over the Parler homepage on Friday.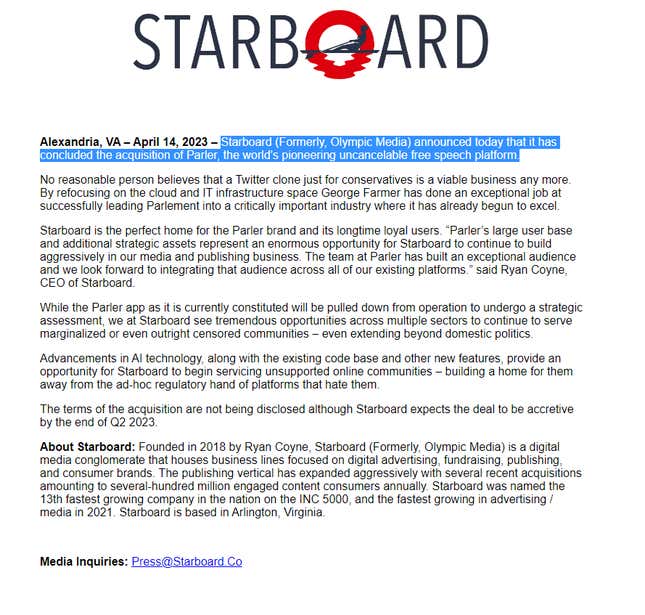 Upon announcing the completed acquisition of Parler, Starboard seemingly took the site offline. Coyne told the WSJ that he intends to keep Parler's app and web platform on pause while Starboard concocts a plan to revive it bigger and better than before. "It's going to take a breath of fresh air," he said. But regardless of any challenges, the company believes that acquiring Parler is a net good. It's a chance to offer "unsupported online communities by building a home for them away from the ad hoc regulatory hand of platforms that hate them," Starboard wrote in its press statement.

"Parler app as it is currently constituted will be pulled down from operation to undergo a strategic assessment," that statement adds. Starboard offered no details on timeline or how long Parler would be down for—nor information on what any revived version of the platform might be.
In an email to Gizmodo, Coyne said. "there is not currently a defined timeframe for the launch of what Parler will transition into." The Starboard CEO added that his company "is not disclosing exact plans for [its] use of the platform at this time." Though, asked if existing Paler accounts and data will be preserved, Coyne said, "yes."
As part of the transition, current Parler CEO George Farmer is stepping down. Igor Shalkevich, the company's chief development officer, will take over the head exec position, per WSJ. The companies are keeping the financial terms of their deal under wraps for now.
The newly announced acquisition comes months after a different deal with Ye (formerly known as Kanye West) fell through. In December 2022, Parlement Tech announced the choice to not sell to Ye on the same day that the mogul announced "I love Hitler" during an InfoWars appearance. As the parent company told Axios, the "decision was made in the interest of both parties," and the company would "pursue future opportunities for growth and evolution of the platform for our vibrant community."
In the intervening months between the failed Ye purchase and the present acquisition, Parler fell on hard times. And the platform had already been struggling. In January, Parlement Technologies laid off almost all of its staff—holding onto a skeleton crew of just 20.
Parler has been around since 2018, when it emerged on the scene billing itself basically as Twitter but without moderation. Despite that attractive premise, the site failed to attract and maintain a user base comparable to more mainstream platforms. At its peak, Parler had a few million daily active users—compared to Facebook's ~2 billion and Twitter's ~230 million daily users.
Then, it all fell apart in the wake of the January 6, 2021 Capitol riots. According to a vast ocean of critics, Parler enabled the planning of the Capitol chaos. The platform lost its web hosting when Amazon revoked its support for the site. Google and Apple followed by banning the Parler app from their stores. The social platform later returned to the internet hosted by Epik—digital cesspool rescuer extraordinaire. Then, Parlement Technologies announced its own pivot into web hosting.
Still, Parler never recovered from its de-platforming. As of last August, the site's visitor numbers were hovering around 137,000 per month. But Coyne and Starboard seem to have high hopes for the platform's future. The media exec told WSJ he plans to maintain Parler's audience, even in face of a site shutdown and growing competition among conservative social platforms. "Starboard is the perfect home for the Parler brand and its longtime loyal users," the company's press statement says.