Directors have a lot on their plates when making a major Hollywood film. It's basically a juggling act. But there were two key elements of Wonder Woman that Patty Jenkins continued to "hammer home" throughout the entire production, and they made all the difference for the end product.

In an interview with Vanity Fair, Jenkins chatted about her experience working on Wonder Woman as she entered pre-production on the sequel. She was specifically asked about the biggest challenge she faced while filming the classic superhero's solo debut. Jenkins told them it was maintaining tone in a movie that jumped around to different stories and locations so rapidly. "You start in a fantasy world of women in costume, and then you go to real life, World War I England...then you end up in the supernatural...and then you have a love story," Jenkins said.
Granted, there were legitimate criticisms of the final battle between Wonder Woman and Ares, mainly in terms of its length and unnecessary intensity, but the overall tone of the story (about hope in the face of adversity) remained intact. That's because Jenkins made sure that everyone on her team knew to keep two issues, including tone, at the forefront of their minds.
"I brought in all of my [department heads] every week. I would sit and hammer home [that] we have to be so careful that we don't veer from one movie to another movie, first of all," she said. "And, second, that anywhere that she walks out in a Wonder Woman suit, it just doesn't look ridiculous."
G/O Media may get a commission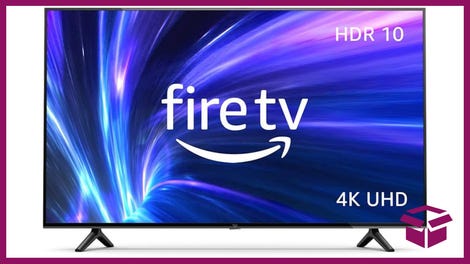 42% Off
Amazon Fire TV 50" 4K Smart TV
The film, which was one of the top box office draws of 2017, is currently being pushed as an Oscar contender, including a Best Director nomination for Jenkins. Sadly, the director herself didn't sound too assured that Wonder Woman, which was shunned at the Golden Globes, would receive any awards at the upcoming Academy Awards. "I know that superhero movies have had a very hard time," Jenkins said, adding that female directors also face obstacles. But hell, Suicide Squad's got an Oscar. Anything is possible at this point.