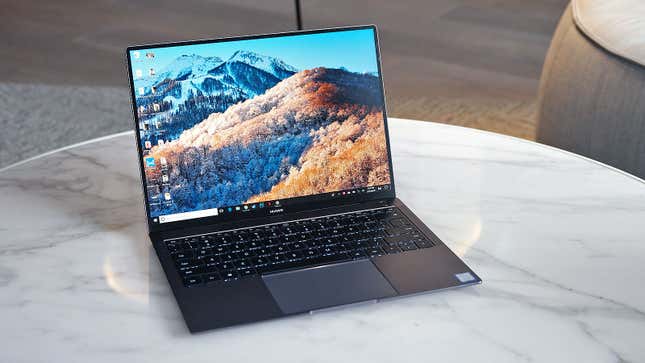 After more than five years of declining sales, nerds and APM enthusiasts everywhere can gently rejoice: The PC has made a comeback so far this year, thanks in part to businesses switching operating systems and the insatiable appetites of gamers.
Meet Microsoft's New Surface Laptops
The second quarter of 2018 "showed shipments of traditional PCs (desktop, notebook, and workstation) totaled 62.3 million units, recording solid year-on-year-growth of 2.7%," according to a report from market research firm IDC. That 2.7 percent growth was largely fueled by increasing demand for PCs in the commercial sector, and to a lesser extent "by growing consumer demand for gaming systems," says IDC. Businesses migrating to Windows 10 helped spur the purchase of new computers, which makes sense considering Windows 10's hasty adoption rate.

A report from Gartner tells a similar story, while painting a worrying picture for future sales. "In the business segment, PC momentum will weaken in two years when the replacement peak for Windows 10 passes," said Gartner's report. "PC vendors should look for ways to maintain growth in the business market as the Windows 10 upgrade cycle tails off." Maintaining growth might be a problem for businesses, especially as software like Photoshop, once exclusive to the traditional PC, drifts off to greener, more touch-friendly pastures.
Sales being up for the first time since 2012 means they've, well, been down, no thanks to the appearance of the iPad in 2010, or the advancement of mobile devices that do more while weaning us off our reliance on traditional PCs. As more people embrace the heretical "post-PC" lifestyle, turning to mobile devices more often than desktops and notebooks, people are buying fewer computers, while still apparently favoring them for work-related tasks or Fortnite streams on Twitch. You know, the stuff computers were made for.
The personal computer, to its credit, has changed drastically since 2012 (hell, the first Surface Pro wasn't available until 2013). The multitude of form factors, tiers of performance, and affordable price points have helped make them more appealing, even if the cheap ones usually suck. There's no doubt PC sales will continue to ebb and flow, but the tide is still not in its favor. The personal computer as we've known it seems to be fighting a losing battle. Better learn how to no-scope someone on a smartphone now rather than later, folks.
[Verge]