The government of New Zealand released Silicon Valley billionaire Peter Thiel's citizenship paperwork, after it was revealed that he had become a citizen under unusual circumstances. But that paperwork only contains a single mention of Thiel's global spy software company, Palantir. And New Zealand media are now starting to dig deeper into Thiel's "secret Kiwi spy links."

The New Zealand Herald reports that the country's top spy and military agencies have contracts with Palantir, some dating back to at least 2012, the year after Thiel gained citizenship. It's unclear how much the New Zealand government pays Palantir annually for its software nor is it clear how the notorious data technology is being used.
Some politicians are crying foul over the matter and are now asking for an investigation into how specifically Palantir's software is being deployed in the country.
"The Parliament should not be too hasty until these things properly come to light," New Zealand politician Kennedy Graham told the Herald, while insisting that the country's latest defense bill should be delayed.
Palantir's clients in New Zealand, according to the Herald, include the New Zealand Defense Force (the organization that includes the Army, Navy, and Air Force), the Security Intelligence Service (SIS, the New Zealand equivalent of the CIA) and the Government Communications and Security Bureau (GCSB, the New Zealand equivalent of the NSA).
G/O Media may get a commission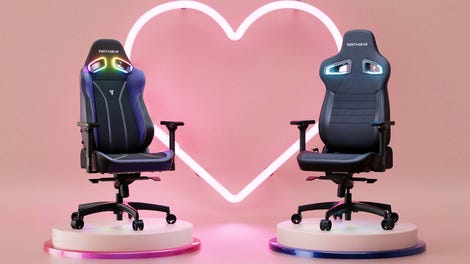 Up to $150 off
Vertagear Gaming Chairs
As the smallest country in the Five Eyes global spying alliance, New Zealand citizens have often been some of the most vocal critics of electronic surveillance and intelligence gathering in the South Pacific. Average New Zealanders frequently ask what value they're getting out of the alliance, which seems to be at the heart of these latest investigations into Palantir.
Palantir was founded in 2004 by Peter Thiel and Alex Karp with a healthy investment from the CIA's venture capital arm In-Q-Tel. The company produces software used by governments and companies around the world to crunch enormous amounts of data for everything from national defense to targeted advertising. The company reportedly has over $1.2 billion in American federal-level contracts alone. It's not clear how large Thiel's current stake in the company might be.
New Zealand's military initially denied using Palantir software until the Herald presented the New Zealand Defense Force with an article in the country's Army News magazine from 2012 discussing the software company. After being shown the article, the military admitted that it had roughly 100 people who are trained to use Palantir software. The July 2012 issue of Army News available online mentions a "Palantir Battlelab":
Palantir Battlelab (DSO): Palantir intelligence software is in use with a number of our domestic and foreign partners. This Battlelab will review the capabilities of the Palantir software against current systems and assess its viability as an effective analytical tool set.
The SIS and GCSB told the Herald they could neither confirm nor deny reports of the spy agencies having contracts with Palantir. Thus far Palantir has not responded to Gizmodo's request for comment which was made earlier this morning.
It's far from a secret that Palantir has had a presence in the country, since it has an office in the capital city of Wellington. But Peter Thiel's secret citizenship has added an extra wrinkle in the mystery of what Palantir does there and has created quite a stir in the country of just 4.5 million.

"I am happy to say categorically that I have found no other country that aligns more with my view of the future than New Zealand," Thiel, a member of President Donald Trump's transition team, wrote in his citizenship paperwork. Thiel took his citizenship oath in Santa Monica, California and has not lived in New Zealand for any extended period of time.
Thiel's citizenship was only revealed after an investigation into how the billionaire was able to buy so much environmentally sensitive land without going through a foreign ownership review. The government revealed that the review was unnecessary because Thiel was a citizen, which was a surprise not only to most New Zealanders, but many in both Silicon Valley and Washington, D.C.
But despite being a man of the world, with citizenship in multiple countries (Thiel still has not responded to Gizmodo's questions about how many other nations in which he may hold citizenship), the billionaire isn't big on this whole "globalization" thing.
"I think the tide on globalization is just going out," Thiel declared at a conference on Tuesday. "It's going out on all these different dimensions: Movement of people, I think immigration is getting more restrictive, not just in the US but throughout the western world."
"I think movement of trade, I think there's big headwinds there through goods, movement through capital which is mainly through banks, the banks are going to get more regulated," he continued. "And then even movement through information."
But this ironic perspective on "globalization" hasn't stopped Thiel's global businesses from expanding, and neither has it put a damper on his snapping up of properties around the world.
Buying land in New Zealand has become so common amongst wealthy Americans as a sort of insurance policy for when the world goes to shit that it's become a nickname for all things apocalyptic amongst the mega-rich. But Thiel's citizenship has raised concerns from those in New Zealand opposed to Donald Trump, as the billionaire was an early supporter of the Bloviator-in-Chief. Thiel is currently helping staff key positions in the Trump regime.
Kevin Harrington, for instance, is managing director of Thiel Macro LLC, the firm that personally manages Peter Thiel's wealth. Despite what would appear to many as an uncomfortable coziness with a contractor of the international surveillance apparatus, Harrington was just named to a top spot on the US National Security Council.
But conflicts of interest have never bothered Thiel, if his public comments are an indication.
"I don't want to dismiss ethical concerns here, but I worry that 'conflict of interest' gets overly weaponized in our politics," Thiel told the New York Times in a recent interview.
"I think in many cases, when there's a conflict of interest, it's an indication that someone understands something way better than if there's no conflict of interest," Thiel continued. "If there's no conflict of interest, it's often because you're just not interested."