At the blog Narrow Streets: Los Angeles, self-proclaimed "urban planning geek" David Yoon takes the yawning boulevards of La-La Land and shrinks them to a scale on par with European cities...and manages to create an amazing change in perspective.
In his Narrow Streets: Los Angeles manifesto, Yoon likens his photographic manipulations to concept art - he wishes to bring the sprawling city to a less mammoth, more old-world scale.
As a writer, street-narrowing to me represents an act of fictionalization, with fiction itself being an attempt to make sense of the randomness life flings our way. The grander absurdities of Los Angeles have already been well documented - its optimistically-named enclaves, phantom star maps - but its smaller, more micro-level oddities go mostly unnoticed: sunning at an outdoor cafe just steps from the edge of a six-lane, 50mph road; eyeing the 30-second countdown when crossing an intersection; bidding farewell to friends after dinner in dreary parking lots.
[Narrow Streets: Los Angeles via Good]

Rodeo Drive + Dayton Way, Beverly Hills (Shrunk)
G/O Media may get a commission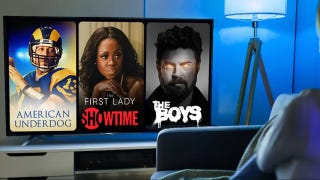 UNDER $1
99¢ Prime Video Channels

Rodeo Drive + Dayton Way, Beverly Hills (Real)

Wilshire Boulevard + 3rd Street Promenade, Santa Monica (Real)

Wilshire Boulevard + 3rd Street Promenade, Santa Monica (Shrunk)

Sunset boulevard + Doheny Road, West Hollywood (Real)

Sunset boulevard + Doheny Road, West Hollywood (Shrunk)

3rd Street + The Grove Drive (Real)

3rd Street + The Grove Drive (Shrunk)