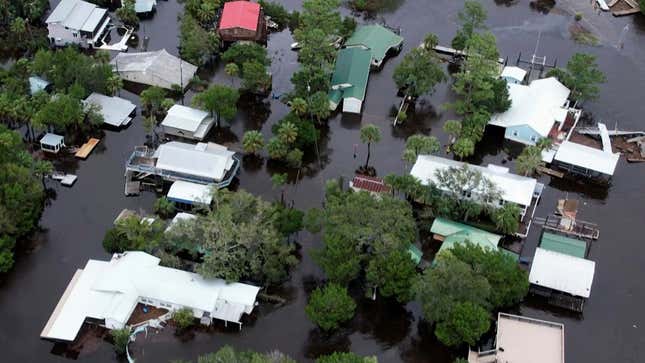 Tropical storm Idalia has made its way through several states since it made landfall yesterday and has moved on to North Carolina after leaving a trail of collapsed homes, flooded streets, and felled trees.
Just yesterday morning, the storm was a dangerous category 3 hurricane with maximum sustained winds of over 100 miles per hour. But the storm was downgraded overnight and currently has maximum sustained winds of about 60 miles per hour, according to the National Weather Service (NWS). The storm is expected to move out into the Atlantic Ocean today.
But this comes after it severely damaged homes throughout Florida, Georgia, and North and South Carolina. The rain and storm surge also flooded coastal areas. And the Southeast is still feeling the effects of the tropical storm today.
"Heavy rainfall is expected across the North Carolina coast through this afternoon, when conditions will begin to improve," an alert from the NWS said. "Additional rainfall amounts of 2 to 4 inches with isolated maximum amounts of 5 inches across coastal North Carolina are expected during this period."
The extensive damage has left hundreds of thousands of households and businesses in the dark. As of this morning, more than 220,000 customers across the Southeast are without power, according to data from PowerOutage.us. The worst of the outages are in the Florida bend, where more than 130,000 homes and businesses are currently powerless. More than 89,000 customers in Georgia are currently without power.
Videos posted on Twitter show damaged homes, debris, and even cars strewn about:
The hurricane's passing over Florida also dumped a 100-year-old tree onto Florida Governor Ron DeSantis' Tallahassee mansion. Casey DeSantis, the First Lady of Florida, posted a photo to Twitter that showed the large tree on the ground, half of it leaning against the large white house in the background.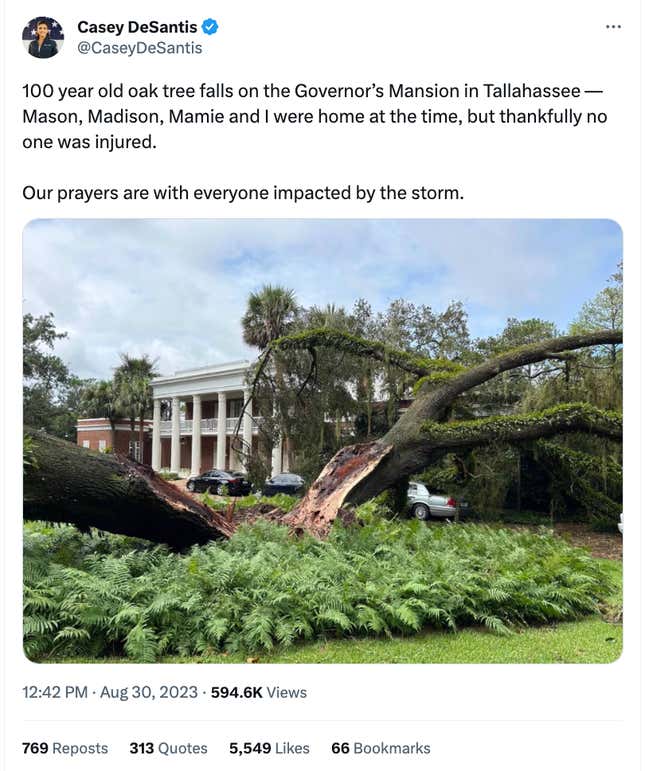 See how the hurricane plowed through several states in the slides ahead:
Want more climate and environment stories? Check out Earther's guides to decarbonizing your home, divesting from fossil fuels, packing a disaster go bag, and overcoming climate dread. And don't miss our coverage of the latest IPCC climate report, the future of carbon dioxide removal, and the un-greenwashed facts on bioplastics and plastic recycling.