After years of trial-and-error Google has finally done what we've all asked for and made a Chrome OS tablet. It could be the perfect device for the barebones operating system.
Vizio's Latest TVs Go All Quantum
The Google Pixel Slate might look like an iPad with a Google Pixel veneer applied, but there aren't a lot of products that have me as excited as the Pixel Slate. Google's newest home-grown Chrome OS device is the natural successor to last year's excellent if pricey Pixelbook.
That device was thin for a laptop, but too thick for a tablet—a 2-in-1 that succeeded primarily because of its operating system. I suspect the Pixel Slate could wind up succeeding because of its operating system too (more on that below). But it's no slouch in the hardware department.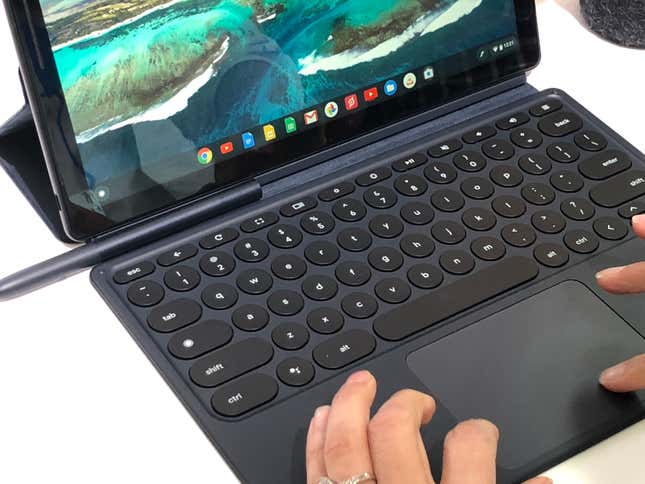 The Pixel Slate will be just 7mm thick, handily beating the Pixelbook, which was 10.16 mm thick. Like the Pixelbook, the Slate will have a 12.3-inch display, but its resolution jumps from 2,400 x 1600 to 3,000 x 2,000 pixels—pixel density correspondingly jumps from 235 ppi to 293 ppi. Google claims the battery will run 12 hours on a charge.

Though Google insists that the device isn't just a huge smartphone, it's got two cameras, one in the back, one in the front.
And it's naturally a touch display with support for the $100 Pixelbook Pen. While the Pixelbook, and other touch Chrome OS devices like Samsung's Chromebook Pro have never had fast enough pen response to match a Surface or iPad, the Pixel Slate, in our initial time with it, seemed to suffer no lag. That's because, according to Google, the algorithms Chrome OS relies on to anticipate where a pen stroke is going have dramatically improved. Finding out whether they've actually improved will have to wait until we get more than an hour with the device.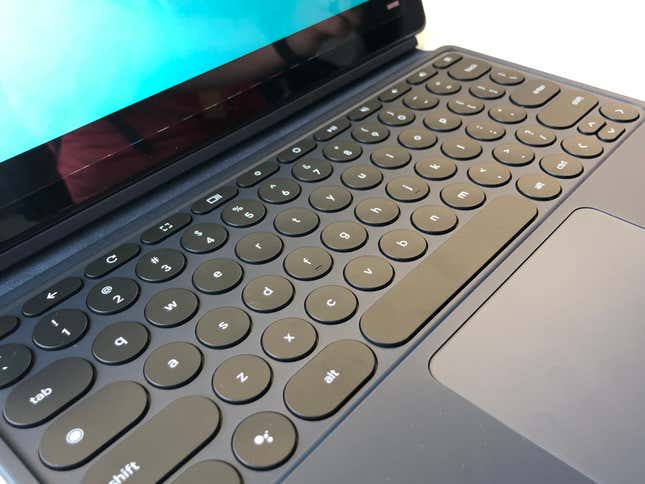 While the Pixelbook had the keyboard built in, the Pixel Slate relies on a $200 Pixel Slate Keyboard cover. That's a lot more than either Microsoft or Apple charge for their keyboard cases ($130 and $160 respectively), but the Pixel Slate's might have some advantages. Instead of square little chiclets, Google has opted for round keys, which it told us should make for a more pleasant typing experience—a theory users of old typewriters and Spherical All (SA) keycap fans might agree with. Old typewriters and SA keycaps both employ round depressions to guide the finger towards the center of the cap. Google's keyboard cover attempts to do something similar, though with much shallower depressions.
The back of the cover is delightfully clever. It uses magnets to allow you to adjust the angle of the display when in laptop mode. Magnets can finicky as the key component of a 2-in-1 hinge, but in our time with the Pixel Slate, its hinge was easy to adjust with just two fingers. The device slips into place at regular intervals at secure angles. It's not quite as neat as the hinges on the Microsoft Surface Pro or HP Spectre Folio, but for a tablet-first 2-in-1 it's one of the best options we've seen.
In terms of guts, there are quite a few offerings depending on how much you want to spend. Storage goes from 32GB to 256GB, RAM from 4GB to 16GB, and the processor can either be an Intel Celeron, or an 8th-gen Y-series i3, i5, or i7 processor.
Chrome OS devices tend to be less demanding than Windows or macOS devices—in fact many perfectly excellent Chrome OS laptops already come with Celeron processors. So the $600 Pixel Slate with a Celeron processor, 4GB of RAM and a 32GB SSD is not alarming—just a little pricey. The similarly spec'd Samsung Chromebook Pro v2 is $100 cheaper and has a pen and keyboard built in. Factor those in and the Pixel Slate is actually $300 more!

The $1,600 version with an i7, 256GB SSD, and 16GB of RAM is even pricier. That's one of the most expensive Chrome OS devices ever produced (last year's best spec'd Pixelbook still beats it) and as with previous Chrome OS devices it begs the question: Who the hell would spend that on a Chromebook?
In a conversation with the Pixel Slate's team a few weeks ago it was made clear to Gizmodo that Google is hoping developers will. The latest version of Chrome OS supports Chrome OS, Android, and Linux applications and is intended to not just be a product for students writing midterms and aging bloggers playing Fallout Shelter (hi), but programmers and sys admins who spend a lot of time in Linux and want a powerful and attractive machine where Linux runs natively.
Chrome OS has been rightfully maligned for being incapable of matching macOS and Windows for actual productivity. There's no full version of Photoshop or Microsoft Word available. But now there's at least GIMP (which is still no true comparison) and LibreOffice. There's also the ability to develop and deploy Android and Linux applications on the same device. Google claims this is the very device that's allowed Android development and deployment in one, and it's potentially extremely appealing for Android devs, who until now have been stuck developing in macOS, Linux, or Windows and then deploying either to a virtual device or to a separate piece of hardware.
But Linux on Chrome OS has been available since at least August. Another change is a little newer, and it's absolutely silly it took so long to arrive, but absolutely wonderful all the same. Chrome OS will now have two desktop environments. One will resemble the traditional desktop environment and will be active any time a user attaches the $200 keyboard case and uses the device as a traditional laptop. The other more closely resembles the Android app drawer. Put the Pixel Slate into tablet mode and all the apps from Android, Chrome, and Linux appear ready to be activated with a touch of the finger or optional $100 Pixelbook Pen.

Others (okay really just Microsoft) have attempted separate desktop and tablet user interfaces before, but unlike Microsoft, Google's Chrome OS team actually has the benefit of a decade's worth of proven tablet/phone user interface design to fall back on. Microsoft was making a tablet user interface from scratch and it showed. Chrome OS can lean on Android, relying not just on its proven UI, but its wealth of apps that work best in tablet mode anyways.
It all adds up to this new device having a lot of potential. Though it should be reiterated that the Pixel Slate is not cheap. Unlike other Chrome OS devices Google is charging a premium for its own hardware. $800 just to have a tablet and keyboard case is a lot for a Chrome OS device. It's a lot less when compared to devices from other tablet makers like Apple and Microsoft. A 10.5-inch iPad Pro and keyboard case will run $810, while a 12.9-inch iPad Pro with keyboard case will run $970, and a base Microsoft Surface Pro 6 starts at $1,030 for device and keyboard case. When compared with those devices the base Pixel Slate seems almost affordable. But whether Chrome OS is robust enough to provide a comparable experience to iOS and Windows will depend on how much Chrome OS has improved. Something we won't know for certain until the device ships later this year.
If you're already sold, the Google Pixel Slate goes on sale today.
[Google]