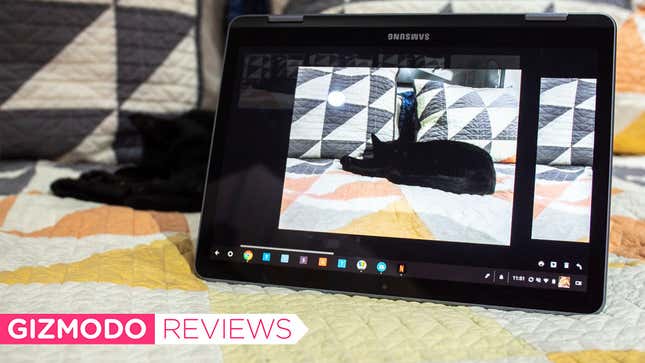 There are good chromebooks for cheaper, and the Google Pixelbook continues to be the very best laptop loaded with Chrome OS that you can buy, but when it comes to the best chromebook you can and should spend money on, the $500 Samsung Chromebook Plus v2, like its predecessor, is your best bet. Unlike any other device, it truly understands what the Chromebook should be: a beautifully cheap device that perfectly bridges the gap between tablet and laptop.
Rob Savage on Collaborating with YellowJackets' Sophie Thatcher
I said this with the first generation of the Chromebook Plus too. Samsung introduced the device, and the more powerful, but otherwise identical Pro, last year alongside Google at CES last year. At the time Google had finally begun porting Android applications into Chrome OS. But a year of tinkering has made the Chromebook Plus even better. And Google has refined the operating system so it doesn't feel quite as sluggish and kludged together as it did last year.
The Samsung Chromebook Plus v2 is a 2-in-1 Chromebook that has no right to be as svelte and as attractive as it is. Apart from second camera and some new guts this is the same device as last year—and it's still just as good. Besides the just announced Microsoft Surface Go there simply isn't a sub-$500 device that stays this thin and light. It's only 2.93 pounds! For an inexpensive device with a 12.2-inch display that's a remarkable feat. (The Surface Go might weigh 1.15 pounds, but it also has just a 10-inch display.)
That 12.2-inch display is also maybe the best looking display you can get in a 12-inch or larger laptop at this price. Typically sub-$500 laptops have dim displays with terrible viewing angles. If you're watching a movie and sitting anywhere but dead center, the display seems to go dark. But the Chromebook Plus has a vibrant screen—though like Samsung's phones it's a little too saturated. That won't be a problem for most people, but if you need absolute color fidelity because you're a web designer or an artist, then you shouldn't plan on relying on the Chromebook Plus' display.
But I don't think the Chromebook Plus is for people who need super precise color rendition. It's a chromebook! Chromebooks are for students and people who don't need a lot of fire power. They're supposed to be good enough for most tasks—not perfect for all tasks.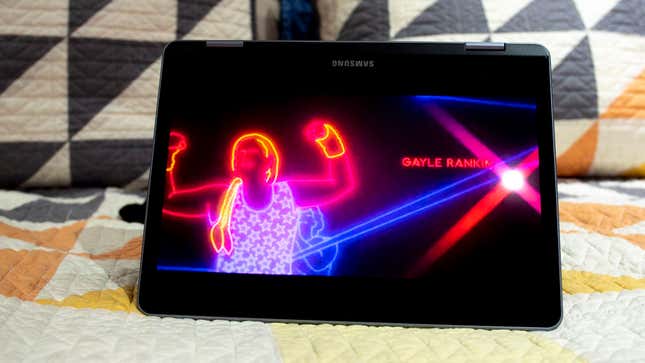 The Chromebook Plus is exactly that. The keys on the keyboard are so good you might think Lenovo built it. They don't feel mushy, and instead have a noticeably pleasant tactile bump when you press down, but they're not so loud as to be obnoxious in a quite office or school library. The Chromebook Plus also has a touch screen and a build in stylus that pops out with a poke. With its 360-degree hinges, it can be used as a tablet for drawing on or stuck in tent mode to crank through a few episodes of Glow on Netflix. It's not as neat an experience as the iPad or Surface tablet, but it's, you know, good enough.

At 7 hours and 42 minutes of battery life when streaming a video with brightness set to 200 nits, it's got enough juice to do the tasks you demand of a Chromebook too—though it's not gonna wow people (the Google Pixelbook lasts more than an hour longer).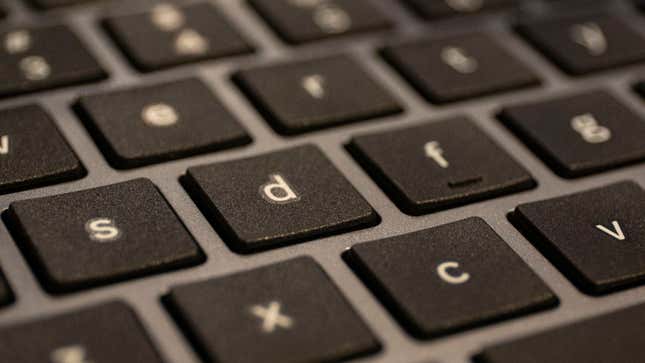 But again, its CPU isn't the star of the show. The Intel Celeron 3965Y processor is by no means beefy. It's better than the OP1 hexacore found in last year's Plus, and a little slower than the Intel M3 CPU found in last years Samsung Chromebook Pro. In WebXPRT 2015, a benchmark that scores how well a computer handles a series of tasks in the browser, the Chromebook Plus scored 260. That's better than nearly every iPad available over the last two years, and only 7 points lower than last year's Samsung Chromebook Pro with a theoretically faster m3 CPU.

In Geekbench 4 it managed a multicore score of just 1969. That's actually quite bad. It's worse than any iPad or even any Android phone we've tested over the last year. But in practice the Celeron CPU is still good enough. It's a little sluggish navigating tabs in Chrome, but when Steam Link loads it can still stream a game from my PC, and the delay when drawing with the stylus is easy enough to adapt to. It's slow, but not frustratingly slow.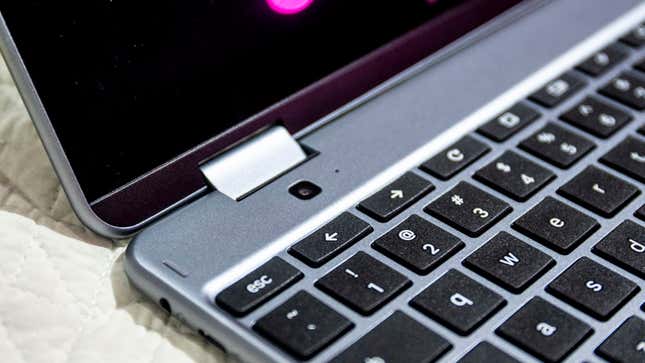 It's serviceable. And at this price point that strikes me as ideal. I'm happy to sacrifice a little speed for a laptop that doesn't scream it's a budget device—you know, like the ones with cheap plastic exteriors, ugly displays, floppy hinges, and keyboards that seems to flex with every press. When I prop the Samsung on my lap and read a comic in Comixology or play a few minutes of Fallout Shelter, I don't notice that lackluster processor. I just appreciate the big display and how light but solid the Chromebook Plus feels in my hand.

I don't even mind the addition of a second camera in what might be the dopiest place I've ever seen a camera. Last year's Chromebook Plus just had the one camera above the display for when you wanted to hop in a Google hangouts with friends or family. The Chromebook Plus v2 has added a second 13MP camera above the keyboard. The idea is that you can flip the chromebook into tablet mode and take pictures like you might with an iPad.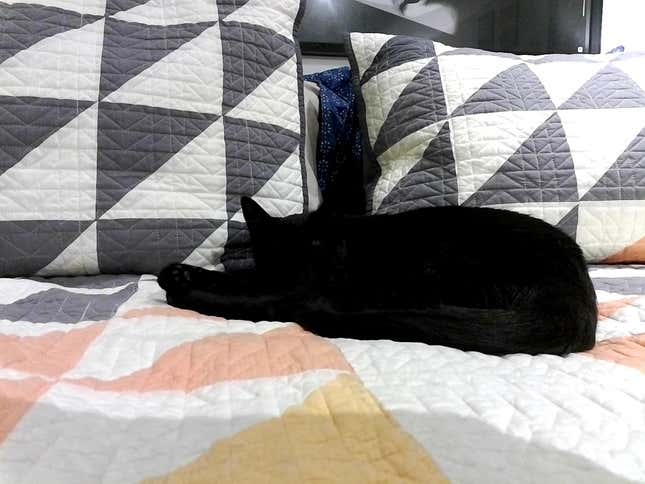 It's completely silly on a 12.2-inch laptop. The built in camera app isn't robust. The images aren't crisp and clear. The damn thing is slow, and you never quite know when the photo's been slapped. It's just not very useful.
Despite the camera I can't deny that this computer has brought Samsung closer to perfecting Google's grand plan for Chrome OS. The operating system, over the last year, has transformed from a budget operating system for students who need to write a paper to near perfect operating system for people who want a device that can move nimbly between laptop and tablet. Microsoft has tried with the Metro design language it introduced in Windows 8 (the big pretty squares you see in the Start menu) and Apple wants us to take iOS seriously as an OS for cheap devices that can do serious work.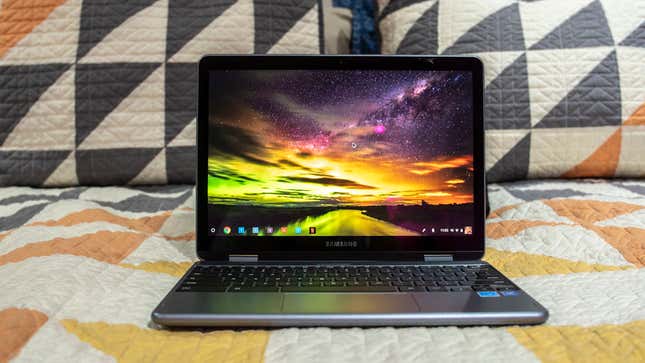 But Google and Samsung are the companies that have brought the concept the closest to perfection. This thing feels like a tablet when it's in tablet mode, and like a perfectly serviceable laptop when it's in laptop mode. It's fast enough for every day tasks that I can excuse it's bad Geekbench score. If you've got just $500 to spend on a computing device right now there's no better choice. Though that could change when the Microsoft Surface Go arrives next month. Until then, this is the perfect device for the student or anyone else on a budget.
README
This is what a chromebook should be. Sleek, cheap, and useful.
It works as a great Android tablet or a nice chromebook.
Gorgeous if overly saturated display.
Very nice keyboard.
The Celeron processor is...not fast, but not awful.
The second 13MP camera is silly.