Unless you're a synesthete, you probably don't get very many opportunities to see music. But this 3D data visualization project, Portrait of the Ghost Drummer, by Polish designer Odaibe allows you to do exactly that.
In the video, the movement of a pair of drumsticks is recorded via motion sensors, and visualized in the form of an evanescent, arcing path. The format allows for kinetic patterns to emerge and fade away, evolving in three dimensions as the drummer's performance unfolds.
Odaibe describes the project:
[A drummer, when playing] is unconsciously engaged in an elaborate choreography. The drum sticks are the extensions of drummer's hands like a brush is an extension of the painter's hand. Motion-captured movements become a visual map over a time revealing fragile rhythm structures and invisible notations behind energetic instrumental solo.
G/O Media may get a commission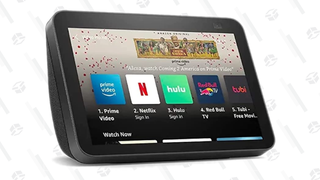 You can check out more of Odaibe's work on his website.
[Spotted on Co.Design]