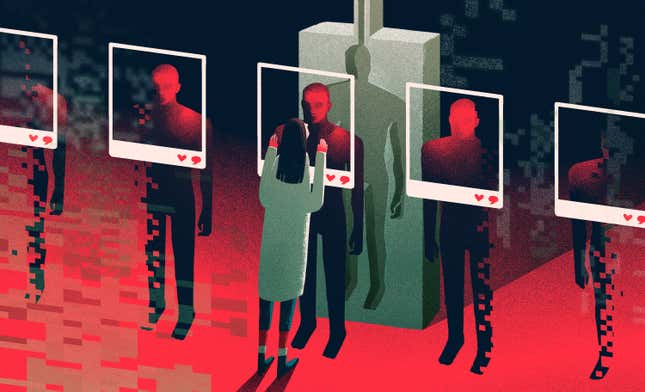 Earlier this year, the media got very excited about Trump.dating, a site for the pro-Donald set that promised to "make dating great again." Much of the media coverage was critical: The site only allowed users to conduct heterosexual searches; the male-half of the couple originally featured on the homepage had a child sex conviction; and its creator didn't seem to actually exist.
Despite all this, the site attracted over 250,000 members, according to its media liaison, Sean McGrossler. He told me over email that 15 percent of those members paid for accounts, starting at $24.99 per month, which would mean the site has made a not immodest $1 million over the last few months.
Perhaps it's no surprise, then, that NeverTrump.dating launched weeks later. It got its own round of news articles, despite being founded by a "political startup" called the "American Liberal Council" that only seems to exist on Facebook, where it mostly posts liberal memes in the style of a Russian misinformation account. (The account hasn't posted since March and did not respond to messages.)
Intrigued by the attention these sites were getting, Alexandra Mateescu, a researcher at Data & Society Research Institute, decided to sign up, not to date a political partisan but to see who was actually on the sites. When she began looking for single men in New York City, where she lives, the results immediately struck her as odd. According to the site, there were lots of Trump supporters in her liberal hometown, and they were racially and ethnically diverse, which surprised her. Few of them referred to Trump in their profiles, though, which seemed strange given the site they'd joined. She wanted to find out more about these people, but she couldn't message them without purchasing a membership, which she didn't want to do, so she and a few friends tried to find the members elsewhere on the web, by using a tried-and-true method of many an online dater: reverse image-searching profile photos to see where else they appeared.
This led Mateescu to people who were not the ones described in the profiles. The supposedly single men in New York pictured on Trump.dating turned out to have completely different lives in completely different places. Among them were a Florida realtor, a teacher in Shanghai, a gay bodybuilder on the West Coast, a Bay Area realtor, and a Floridian who died in a mass shooting. She said the majority of the profiles the site surfaced to her were suspect. She sent me a list of some of these profiles, along with the people the photos actually belonged to, and I reached out to those I could.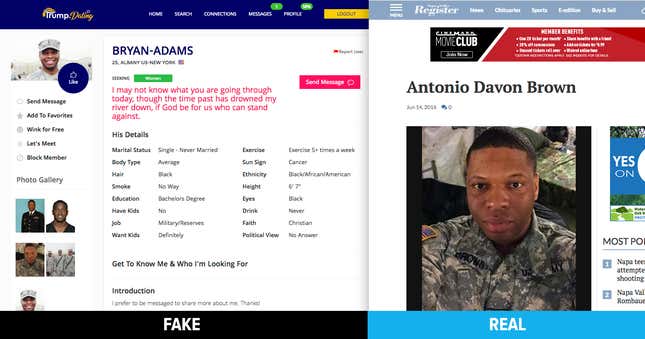 A profile for "a 25-year-old New Yorker who had never been married" was using photos that belonged to Antonio Davon Brown, a 30-year-old reserve officer who died in the shooting at the Pulse nightclub in Florida two years ago. (Scammers steal military personnel's photos so often that the U.S. Army has put out an alert about it.) Whoever is impersonating Brown uploaded five of his photos to the Trump.dating site, all apparently taken from articles about his death in 2016.

Another of Mateescu's matches was a white-haired 58-year-old New Yorker supposedly looking for a serious relationship with a woman. He turned out to be a California realtor who prefers to date men. He told me via text message that his photo gets used in scams at least four times a year. When I told him it was being used on a dating site for Trump supporters, he replied with an exploding head emoji.
Another user, with the profile name Canadaluvie, who was supposedly divorced, living in California, and looking for something casual, turned out to be Gary Allman, who is married and works part-time as a communications director for the Episcopal Church in West Missouri. He's a normal-looking guy, with glasses and a white beard and friendly eyes. Looking at his photo, you'd wonder why someone would choose to impersonate him.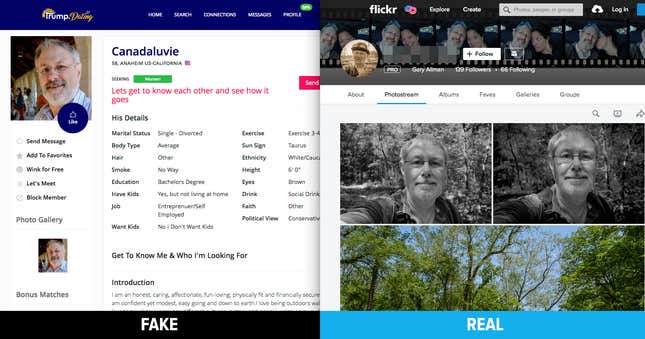 It may be because there are a lot of photos to choose from. Allman is also a photographer, who did a project a few years back that involved taking a self-portrait every day for a year and posting the results to Flickr; those portraits are now used liberally by dating scammers. Allman doesn't regret posting all those photos to Flickr because it was through Flickr that he met his now-wife. But his photos have been stolen repeatedly. He's reported over 70 accounts impersonating him on Facebook alone, many of which he found because they were using variations of his own name.

(Facebook said last year that it would use face recognition to let you know if someone was using a photo of you as their profile pic, but the Washington Post recently reported on just how limited that service is: It tells you if people in your network are impersonating you, but not if complete strangers are.)
"I've had unpleasant experiences where the victims have hounded me," Allman told me by phone. "I've gotten a lot of harassment on Facebook Messenger. One woman phoned me quite a lot, but she realized relatively quickly it wasn't me [who scammed her]."
Allman wrote a blog post that he hoped would be found by victims of scams involving his photo. "So, if you think I'm widowed, I'm not. I don't live in Dallas, Texas, nor Geneva, Switzerland, or anyplace else other than Springfield, Missouri. Oh, and I don't want your money—unless we're out together and it's your turn to pick up the tab," he wrote.
I asked Trump.dating's Sean McGrossler about these suspicious accounts. "Whenever we get a report of someone fishy, we examine them, and if need be, deport them," he replied by email.
---
Part of the explanation for the accounts is in the origin story of Trump.dating and NeverTrump.dating, which have something in common. Both the pro- and anti-Trump dating sites were launched using a "turnkey dating solution" from a company called WhiteBoxDating. The company's owners say they've launched thousands of niche dating sites... because exploiting people's loneliness for profit is an exciting business opportunity. They've got dating sites for almost any niche you could imagine—runners, marijuana enthusiasts, fishermen, bowlers, short people, geeks, people who love guns, and those who serve them (first responders).

It's essentially a Wordpress for dating sites; you come up with a dating niche, choose a stock image of two happy people who fit your demographic, pay a "nominal fee," and boom, your dating site will be birthed unto the world. The best part? Their sites come "pre-populated with a database of millions of active members." Any additional members you attract will pay $25/month to join your site, revenue that you will split down the middle with WhiteBoxDating, which is operated by a company called Friends Worldwide.
You may have some questions, like, "Where do these millions of active members come from?" I had the same question, so I tried to set up a dating site for journalists seeking other journalists, but White Box Dating recognized my name from media inquiries and denied my application.
"Thank you for your interest in WBD, however we do not offer a niche for journalists, and currently have a long waiting list of partner applicants with large networks we must attend to," wrote senior account executive Kelly Myers, by email. "We will have to decline at this time."
Sorry, lonely journalists.
However, when I asked a friend of Gizmodo to apply to set up a dating site for people obsessed with moss, she was told they could create a site for her. So I guess the company thinks there are more people out there who want to date lichen lovers than muckrakers.
In lieu of setting up my own dating niche, I decided to check out the company by signing up for one of their sites, "Asianmatcher.com." I chose this one at random from their very long list of niche sites. I immediately discovered how each of their sites gets its pre-populated database. The profile I set up for "gizreporter" was populated into all of WhiteBoxDating's other sites, including both Trump.dating and NeverTrump.dating, even though I don't, in fact, swing both ways. I could use the same credentials to sign into any of their sites, where the same set of users were surfaced to me. (The company later told me that they don't have special algorithms to pair you with other users; they just show you the most recently active members whose interests match the site you signed up for.)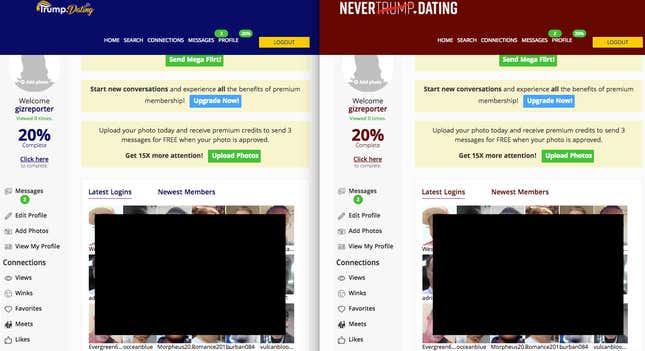 Even though this isn't intuitive, it is spelled out in the terms of use, which say, "Welcome to the Friends Worldwide, Inc. Integrated Dating Network (Friends Worldwide), an extensive global network of integrated dating websites including Friends Worldwide Company Owned and Friends Worldwide Partner Program sites hosted and operated by Friends Worldwide, Inc."

Basically, people who sign up for one of the Friends Worldwide sites become part of all of their sites. No matter which site I signed into, the same people showed up as "latest log-ins." At the top of the list for me was a gorgeous guy with piercing blue eyes and black hair, who was staring intensely at the camera as he took a selfie. His profile said he was 49, divorced, and living in a California town I'd never heard of. I did a reverse image-search on his profile pic and it led me to a DJ named Emmanuel who lives in Switzerland. I sent Emmanuel a message on Facebook asking if it was him on this dating site.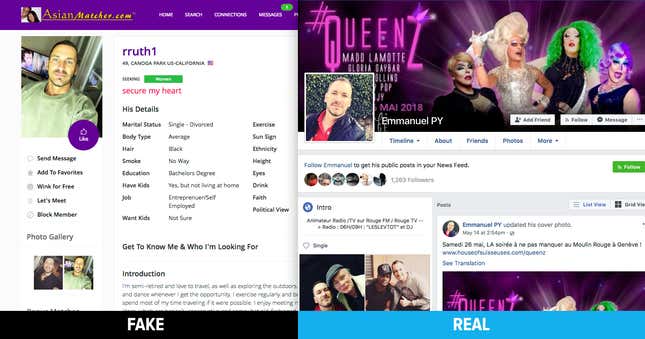 "Hello! It's not me!!!," he responded, emphatically and in broken English. "I have a lot of fakes everywhere!! And i can't do something [about it] for 3 years!!"

The next recommended profile was an older gentleman in uniform. When I reverse image-searched his photo, it came up on a Pinterest page dedicated to outing stolen photos used for dating scams. It's not a huge sample size, but I was troubled by the fact that the first two profiles surfaced to me featured victims of low-grade identity theft.
It made me wonder if someone is in the business of compiling a database of people's photos to use for dating scams. I tried reaching out through the dating site's messaging service to the people running the accounts with stolen photos, but none of them responded to me. Meanwhile, a message at the bottom of the message composition window warned ominously, "Reminder: Always be careful online. Never share your SSN or address, and never wire transfer money to anyone you do not know. Please review our Safety Overview FAQ."
As I waited for responses, it started to unnerve me how little was going on for me in this online dating world. I've been off the market for a while, so maybe I've lost my mojo, I thought. Despite repeated emails to my inbox telling me to check out the site, activity there was lacking. Since I signed up a month ago, I've gotten "winks" from a dozen men, as well as a handful of generic messages, but when I paid $25 for a month-long premium membership so that I could respond to them, none of them wrote back. If dating scammers have paid for memberships here, they may be wasting their money.
I reached out to dozens of other people on the dating sites. Only one person responded: a guy in California who had signed up for Trump.dating. I asked him if he'd had any luck meeting anyone. "Not much. Loads of fake profiles," he wrote back. "Kinda sad, annoying and frustrating."
Despite all the winks and messages my account initially received, the site informed me that my profile had been viewed zero times. After a month of sending messages out to dozens of people, it had been viewed just eight times. Meanwhile, when I checked my own "sent Winks" folder, I discovered that my account had, apparently on its own, winked at two men and sent short notes to them that said "I love your photos" and "You are so handsome," respectively. I had never seen either person's account before on the site.
---
Beyond its own website and the thousands of niche sites that make up its dating network, Friends Worldwide doesn't have much of a presence, online or off. It has a business license in Florida under an address for a UPS Store in Miami's South Beach. Only one employee shows up in a search on LinkedIn: its Miami-based founder, Donald Hobbs.

Hobbs' executive assistant answered some of my questions by email but informed me that Hobbs was too busy to speak to me, so I sought out some of WhiteBoxDating's partners—people who had launched sites with the network. I found them by Googling "Copyright 2018 Friends Worldwide, Inc."—which had over 2,000 results— and then getting WhoIs information for the sites that came up.
Of the sites I reached out to, two people got back to me. The first was a New Yorker named David who launched AdventistsConnection.com for the Sabbath-on-Saturday set; he told me by phone that he created the site a couple of years ago, and that it appeared to have attracted just one member, resulting in a revenue so small he hadn't been able to withdraw it.
I also talked to a firefighter in California named John who set up a site called 911Singles.com about four years ago so that lonely first responders could find each other. He said a few dozen people have signed up over the years, but that he hasn't made much money off of it.
"I wanted to create a place where people could meet quality people, who have some credibility, not like all those other things out there where you don't know what you're going to get," he told me by phone. "The people who sign up don't stay long. So I don't think they're getting what they want."
John says he hasn't dealt with the site in a long time, though it still sits there potentially enticing a lonely paramedic. "I didn't like that I couldn't control who the members were," said John. "I didn't know if they're real or not, or if they're good people."
John says he talked with FriendsWorldwide's CEO Donald Hobbs when he first set up the site "about the business model and stuff."
"I think their model is just trying to get as many people as they can," said John. "If members sign up, then maybe people forget about it and it keeps pulling money from their credit cards."
---
I emailed Donald Hobbs again, and when I made clear that I had concerns about the legitimacy of Friends Worldwide's business operations, he sent me an angry email in return saying he would speak to me by phone. His assistant set up a conference line for us on Freeconferencecall.com and allotted 30 minutes for the meeting. When I called in, Hobbs informed me that we would be joined by his partner, "Ali." (Ali spelled his last name for me as "Asjab," but I may have mis-transcribed it, because I could find no one by that name online. The company did not respond to emailed requests for the correct spelling of his name.) The call wound up lasting two hours, during which they threatened to sue me at least three times.

Hobbs was calling from Georgia, where he was caring for a sick relative. Ali was calling from a "Four Seasons in Hong Kong" and refused to say where he was normally based. They said the company has 37 employees and operates as a virtual office, so everyone can live flexible lives and travel.

"We've been in business since 2001," said Hobbs. "We've spent tens of millions of dollars on infrastructure and advertising to attract millions of members. It's produced countless relationships, dates and relationships."
"Mark Zuckerberg was still getting drunk in college when we started this thing," added Ali. "We still get thousands of subscriptions every day. If you're interested in someone who likes tennis, how else would you find that?"
He doesn't mean doing a search for other people who like tennis on one of their sites. Their search parameters aren't that complex. He thinks the only option for a tennis-minded person looking for a love-love partner is to sign up for Friends Worldwide's tennismatch.com.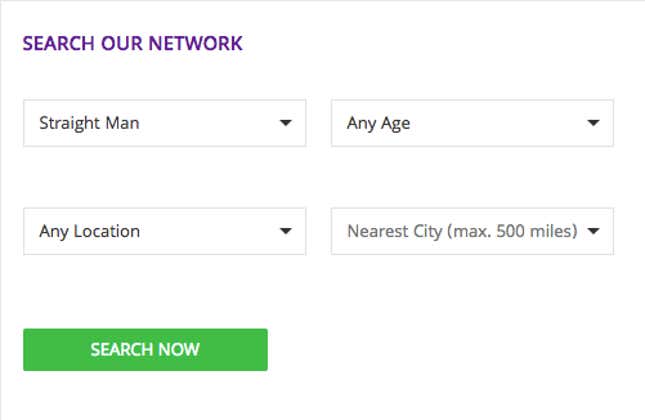 The WhiteBoxDating website claims that "partners" who set up a dating site with them will get "a database of millions of active members." My major question for Hobbs and Ali was where those members come from.
Hobbs explained that he got into the niche dating business with BBWdatefinder.com, a site for "big beautiful women," during a time when it was easy to buy members through cheap advertising campaigns using Google Adwords, which had launched a year before in 2000. Hobbs said he was soon making $20,000 a month off the site, so he launched more niche dating sites and claims he started making hundreds of thousands of dollars per month in the first couple of years. He eventually moved all his sites under the Friends Worldwide brand, where they all shared a membership database and created White Box Dating so others could launch sites of their own that would tap into the same membership database.
When I said that seemed problematic when two sites were diametrically opposed like Trump.dating and NeverTrump.dating, they said it didn't work like that, and that you would only be populated into a niche site if your interests indicated you were a good fit for it. This seems questionable. When I created two new accounts, one on Trump.dating and a different one on NeverTrump.dating, and searched for "straight men" in California, I got nearly identical results save one profile, a guy from Los Angeles whose mention of the Trump site in his profile made clear he had explicitly signed up for Trump.dating.
So if you sign up for Trump.dating, you won't be populated into NeverTrump.dating and vice versa, but all the rest of the guys who came up in the search, who had originally signed up for who-knows-what-site had been populated into both Trump and Never Trump. Their listed political views included "no view," "libertarian," "moderately conservative," and "moderately liberal," a broad wheelhouse that apparently suggested to Friends Worldwide that they'd be happy to have their smiling faces appear under either banner. This surely mischaracterizes how some of these people—assuming they are real people—feel about President Trump.
Hobbs and Ali were combative on many fronts, but they were willing to admit that many of the sites on their network are indeed ghost towns—ghost towns that could entrap any visitor who has the misfortune to stumble by and pay to join.

"We have thousands of partners and some of them amount to nothing," said Ali. "Eighty percent of the partners produce nothing. Twenty percent of the partners are responsible for 80 percent of the revenue. As of last year, we have stopped accepting applications from most people."
They said my account's winking at other members must be a bug, and suggested I send a bug report. They said people probably hadn't responded to me because I didn't have a profile photo and because I had made clear in my self-description that I was a journalist just there to look. (They had looked up my account by searching for the email address I used to contact them.) They then told me they weren't happy I created a profile because it violated their terms of service because I hadn't joined the site looking to get dates. They suggested they might sue me for breach of contract. I responded that I was on there to meet people, which is why anyone joins a dating site. In my case, I hoped to meet the scammers behind accounts using stolen photos.
I asked about the suspicious accounts that Mateescu and I had encountered on the site and they were very defensive, saying our experiences weren't representative of that of most of their users.
"If you have a member database that is 20 million strong and you look at just 20 members to judge its quality, that's not fair," said Ali.
They did admit that fraudsters are a problem for them. In fact, they sounded pretty frustrated by it.
"We don't deny that users with suspicious intentions join our platform. It's an ongoing battle against spammers and bad actors that will never end. Facebook has hundreds of thousands of fake accounts, too," said Hobbs. "All we can do is improve our proprietary software and fight these bastards."
(After the interview, I sent Friends Worldwide a list of the profiles I'd found using stolen photos. As of publication, all of the profiles were still up on their sites.)
Hobbs lamented that this "isn't an honest world" and that they pay fees every day for stolen credit cards used on their site. (American Express wouldn't let me pay for a membership there until I called their 1-800 number and verified it wasn't a fraudulent charge.) He said they have banned certain countries from their network, that they have "15 different filters" to detect fraudulent accounts, and that they have hired "programmers with quantum computers to fight this stuff," but it persists. He blamed the "dark web mafia."
"These people cost us money. If you're on a NASCAR site, you want to talk to other people who are into NASCAR, not a bot from Russia," said Ali. "They take away resources that could be used to add features for users. We want to add video and audio chat. Instead, we spend 70 percent of our resources fighting fraud and spam."
They weren't willing to give me any financial documentation of their success, but maybe it's just a numbers game. There are billions of people on the internet. Many of them are lonely. Perhaps enough of them will keep signing up for random niche dating sites to keep this all going. Only they can't live in Nigeria, Ghana, or Ukraine. Those countries are banned from Friends Worldwide.
---
What fascinated me about this whole thing originally were the poor saps who are perennial victims of low-grade identity theft, whose photos are stolen from Facebook, Twitter, and Flickr to be used repeatedly by evil online doppelgängers preying on the lovelorn. These people need help. Social networking and dating sites should band together to prevent the repeated use of these people's photos, creating a database of frequently stolen photos that are automatically flagged when used by a new user, similar to the PhotoDNA system that exists to prevent people from passing around known images of child porn.

But at the end of the investigation, what stays with me is this strange, amorphous business somehow staying afloat despite scammers and spammers and giant competitors. These niche dating sites seem anachronistic, artifacts of a sprawling Web where people once sought out obscure sites and social corners rather than gravitating towards a narrowing field of behemoth destinations. The presence of scammers, spammers, and identity thieves on Friends Worldwide isn't surprising; the real surprise is that the business still exists at all.
Perhaps it's like the grocery ecosystem in big cities. Tinder, OkCupid, and Match are the Whole Foods, Safeway and the Trader Joes of the dating world, and Friends Worldwide's niche sites are all the little bodegas that continue to survive because enough individuals duck into them for small needs. Somehow they are continuing to compete in this new, hyper-industrialized, mass-market world. That is unless Facebook's soon-to-be-launched dating service turns out to be the Amazon that destroys them all.