Facebook, still reeling from a scandal concerning the improper sharing of tens of millions of its users' data, now wants to get even more intimately involved in your life. At the F8 developer conference on Tuesday, Mark Zuckerberg announced that the social network will soon offer dating features slated to roll out later this year. He noted that there are almost 200 million people who identify as single on Facebook, "so clearly there's something to do here."
Zuckerberg seemed to acknowledge that people may have some privacy concerns about using Facebook as a dating app. He reassured the audience that the dating features were designed "with privacy and safety in mind from the beginning."
According to Facebook, the forthcoming dating features are opt-in, and won't exist in a standalone app, but rather on a dedicated Dating page within the Facebook app that only displays your first name. If you create a dating profile, you can then browse Facebook events and groups in the Dating home page and unlock ones of your choosing. Once unlocked, other people using the dating service who have unlocked the same groups or events will be able to see your profile and start a conversation, or vice versa.
Facebook says you won't be able to see the dating profiles of your Facebook friends—it will only suggest non-friend users who opted in and who fit your preferences. Additionally, the messaging aspect of Facebook's dating feature is text-only (presumably to prevent the transmission of unwanted pics or spam) and not connected to either Messenger or WhatsApp. In the example slides Zuckerberg and Chief Product Officer Chris Cox showed during the conference, the dating profiles weren't dissimilar from those seen in other popular dating apps, displaying photos, names, ages, jobs, education history, and mutual friends.
G/O Media may get a commission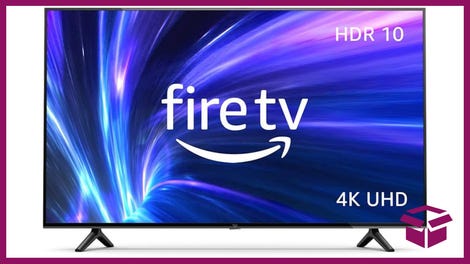 42% Off
Amazon Fire TV 50" 4K Smart TV
Zuckerberg said that he doesn't want this to simply be an app for hookups, hoping instead to help build "real long-term relationships." But even if his noble-sounding sentiment is earnest, it's hard not to be skeptical about pouring more intimate data into a network that has already so impressively mishandled it. When questioned about these very concerns, Zuckerberg told Wired that his "top priority is making sure that we convey that we are taking these things seriously," but Facebook is also committed to releasing new products for its users.
It is worth noting, however, that up until recently, most dating apps required authorization through Facebook to use. Tinder still relies on Facebook permissions, for instance. And if your move is flirting on Instagram, Facebook collects that data, too. The moral of the story may be that forging meaningful relationships outside the confines of Facebook's data vacuum is becoming increasingly difficult. You might just have to go outside.