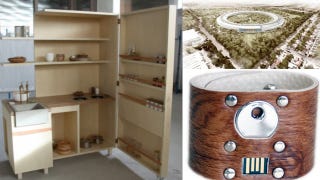 This week on TreeHugger, sandals made from old computers, DARPA's maple seed-inspired drone takes flight, kitchens that fold in half, solar powered grills that cook for 24 hours, and more!
1. Turn Your Bike Rims into Running Lights: Aura and Revo
If you're tired of regular ol' bike lights, and appreciate a clever verb, check out these two ideas for illuminating your bike on the road, via the rims.
2. DARPA's Maple Seed-Inspired Drone Takes Flight (Video)
DARPA's maple seed-inspired drone has taken flight, and can be remote controlled to fly around the room, even do vertical take-offs, while spinning just like a maple seed.
3. Print Out Your Own Home With WikiHouse
You download the plans and cut them out on a CNC router, then bolt them together into a frame, which are set at 2 feet on centre. when you bolt on the exterior panels you have a rigid structure.
4. Compact Kitchen Folds Up And Hides When Not Needed
Designed for small spaces, this kitchen hides the bulk of the room away when you are not using it, freeing the space for other uses.
5. Vegan Steampunk USB Bracelet is Made from Recycled Linoleum Flooring
Designer Jesse Herbert, who also works as a musician, wanted a way to distribute his music to friends and customers that wasn't as wasteful as CDs. Turns out the answer is in jewelry.
6. More Detail On Apple's New Foster-Designed Headquarters
So the spaceship has landed inside its private park with perimeter protection, its own world behind the fence.
7. Solar Grill Stores Latent Heat for 25-Hour Cook Time at 450F
Derek Ham writes over at Barbeque Lovers about a solar-powered grill project he has been working on that uses latent heat storage to both extend cooking times, create hotter temperatures, and reduce the problem of intermittent sun.
8. 5 Energy Efficient Air Conditioners to Keep You Cool
In a perfect, eco-friendly world, we would all stay cool by dabbing crystal, cold stream water on our pressure points and fanning ourselves with giant leaves. But in the actual world we live in, much of the United States has been facing a record-setting heatwave for weeks and, for some, there's only one way to combat it: air conditioning.
9. Sandals Made From Computer Parts Are For the Geek Fashionista
These "Data Sandals" are fashioned from PC mother boards, ribbon wire and a host of other electronic components.
10. Philips AmbientLED 17 Watts LED Lightbulb (Product Review)
Finally a 75-Watt Incandescent Replacement